Are you looking to increase the sales of your Online Restaurant site?
If so, then you're at the right place!
Online restaurant websites are essential for store owners to increase customer engagement and build their businesses. Selling your food and services online helps you avoid dealing with physical cash and save time and energy in serving your customers.
So, it needs to optimize properly with some tools. Also, some factors help to maintain our site in a customized manner.
What Factors Can Increase Sales?
Why do the customers choose you instead of your competitor?
What other things do you have besides your competitor?
These are the key questions that arise when your site needs sales improvement.
Here are the factors that help to increase your online restaurant website's sales and conversion rates:
1. Make Use of Existing Customers
Treat your customers well, as they are your promoters. Always recognize repeated customers and their favorite dishes. The customer database will help you with that. Suggest them to try some new items and handle them with love.
If you give them extra offers, they will feel satisfied with us. After that, the chances of bringing customers to our store are high.
They love our tastes and of course our offers. So, they will share this with their friends, relatives, and on social media.
So, always comfortably treat our existing customers.
2. Spotlight your Menu & Provide Eye-Catching Images
Use some psychology while designing menus.
Which part should the customer see first?
What type of layout should it have?
How large should the image be displayed?
These are the common queries while designing a menu for your online store.
Offering combos can have a positive impact on your sales. It is easy for your customers to order lunch or something with a single click. But, you have to be careful when offering such combinations. They must be related to each other.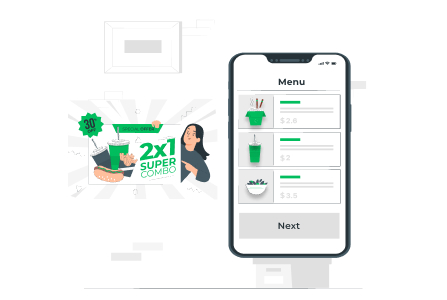 You should show all the categories on the left and a search bar at the top of the menu to find what they ought to have.
Also, display the most popular items above and a clear and high-quality image near that. Because people always like to see what they order to eat before. If the screen presents a spectacular picture of your product, the chances of making purchases are high.
3. Social Media Promotions
Almost everyone is on social media like Facebook, Instagram, etc. As I said above, our existing customers share our products on this site to let everyone know. If we use it properly, we will increase our sales to a higher level.
So, make your presence by creating a social media page for your restaurant store. If you already have one, then post frequent updates about your offers.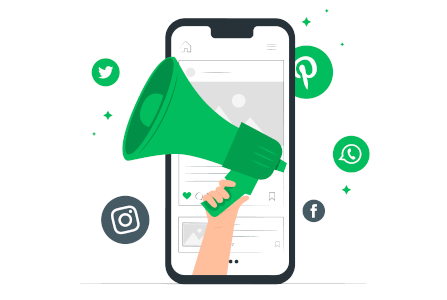 You can also mention the timing changes, new combos, and special offers on that platform to get some more reach.
The answer is almost all the questions asked on your site. It helps to build trust among the visitors. Also, the chances of converting the visitors into your customers are high.
Suggest your customers give ratings and write reviews about your foods and services. It could make a positive impact and bring more customers to your site.
4. Email & SMS Marketing
SMS marketing is short-term one, but effective. Nearly 70% of the people read what comes to their inbox. So, the chance of bringing customers in this is comparatively high. You can collect the data from the customer database and perfectly do this.
The only problem is that the word count is slightly lesser. So you have to derive everything you want to tell on a short note. Some owners prefer shorter and sweeter messages than detailed ones.
If you want to describe your stuff elaborated, then choose Email Marketing. You can send longer messages by this method. It helps to build a long-term relationship with your customers.
Send newsletters in a period about your special offers to keep them updated with your store. Use an email marketing tool to help you with that.
5. Google My Business
Integrate your restaurant site with Google My Business to get featured on the internet. Thus, your customers and new visitors will find your store site easily with a click. It will also help to increase the customer experience with your site.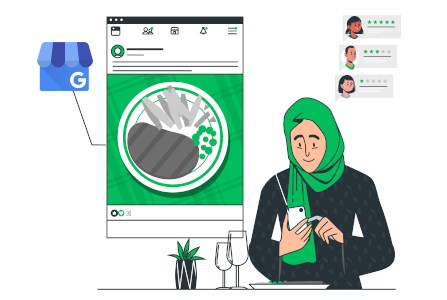 Customers can contact you directly or locate your restaurant on Google maps. Recommend your customers to give reviews and ratings to get positive responses.
6. Food Ordering App
Nowadays, technologies help every business owner boost their sales by posting updates on social media. Also, there is another thing here, mobile applications. They are a boon to us.
You should provide service for your customer based on their flexibility. Some of them feel hungry while driving on the way home or planning to give treats to their friends or families.
At that time, the chances of choosing yours on the internet over hundreds of your competitors are low.
If you provide a mobile application for your restaurant site, it would be easier for the customers to order what they want.
Even if they are on the way home or giving treats to their friends or families, they click your mobile app and choose the food and place the order.
7. Offline Marketing
For the best results, remember to prioritize offline marketing as well. Most owners give importance to online marketing and completely neglect the offline method. That results in half success.
Because aged and uneducated people mostly don't use the internet. So they are not aware of our restaurant. For those, we must do offline marketing like hosting events, giving advertisements in newspapers, distributing pamphlets, and engaging with some food bloggers.
Fine, we looked at all the factors that help to increase our restaurant site's sales and conversion rates.
They help us outside the site, but we need to make customizations inside to get the best result.
Yummy – The Best Restaurant WordPress Theme
To create an online restaurant store website, first, you need to buy a suitable WordPress theme based on your business need.
Make your customers' mouths water when they land on your site with the most tempting restaurant WordPress theme, Yummy.
Add a fresh and clean design to your site. Use the suitable font for your site with its Google fonts supportation. Its default customizer helps you to add custom designs.
Yummy is integrated with the visual composer to set up several web pages based on your niches. It supports the latest Bootstrap 3x and WordPress 4x versions.
With its revolution slider, you can display your images in more attractive ways. It is mobile-friendly and displays on screens of different dimensions.
Install the theme on the WordPress dashboard of your site. Then, set up your product details, images, prices, and other related data.
Why does a Restaurant Website need Plugins?
Before setting up your product data, install plugins to integrate work processes, payments, location compatibilities, etc.
So, let me mention some best WooCommerce plugins that every online restaurant website should have.
1. WooCommerce
WooCommerce is the World's most popular plugin for creating Ecommerce sites. WordPress itself created this outstanding tool for us to integrate with infinite extensions, plugins, and themes to explore our store site.
Access and keep all your store data forever for free. It helps you integrate tools like payment, location, checkout, and product page-related plugins.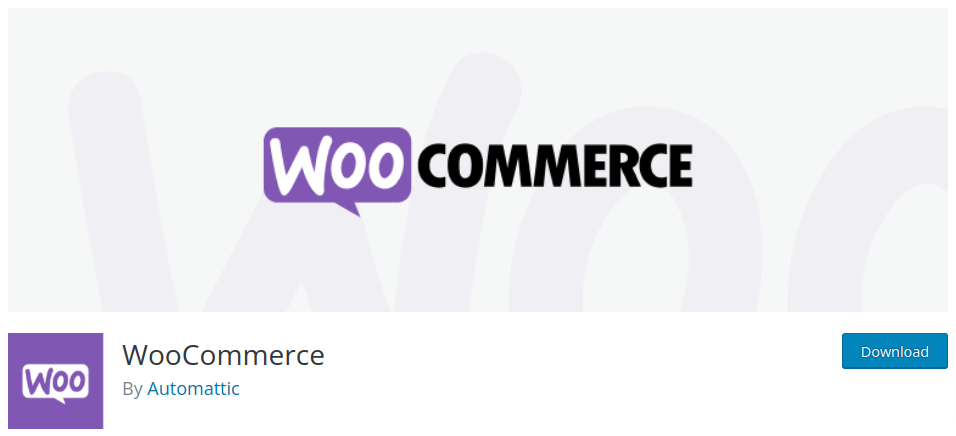 Configure several options inside your site conveniently with WooCommerce. Easily integrate with Mailchimp, Google Ads, Facebook, and other social channels to engage audiences with us.
As it provides the same fields for all business types, most users want to modify the product, checkout, and other pages available default on WooCommerce.
But, the default option would not allow you to make changes to the fields or pages.
Do you also want to change the pages based on your business type?
No worries.
Some best tools are available on the WordPress directory that helps to Customize your Product and Checkout pages.
Also, you can choose payment tools like Paypal and Stripe Payment Gateway.
2. Extra Product Options (Custom Addons)
Customize the WooCommerce product pages of your restaurant site flexibly with this plugin.
"Optimize your product pages, and it will bring more sales for you!"
The plugin provides 16+ different product field types such as Text, Email, Telephone, Color Picker, Date Picker, Time Picker, DateTime Picker, Number, TextArea, Select, Checkbox, Radio Buttons, Hidden Input, Paragraph, Header, and File Upload.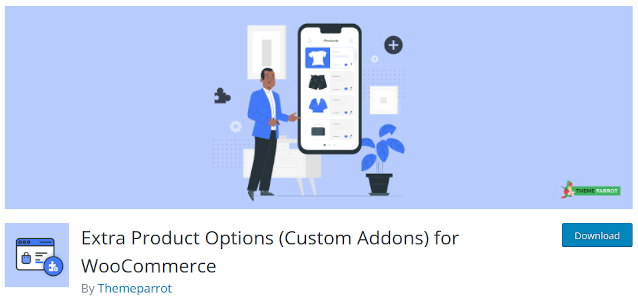 So, you can add any field related to your business type on the product page to acquire some additional information from your customers.
Easily customizable options are there to explore your products. Add, edit, remove and modify the custom and default fields with this plugin.
The dynamic fields feature show or hide the fields based on their rule or value.
Section positioning allows you to determine the place of the "Add to Cart" button. You can place it before or after the form based on your convenience.
Its simple drag-and-drop form builder eases your work. It is a lightweight and easy-to-use product addons plugin to explore your product page.
The Free version provides a lot and if you want to access all of its features, go with the Pro!
Let's give it a try!
3. WP Store Locator
Next, you need a perfect plugin to customize your store locations. We suggest the best location customizer plugin, the WP Store Locator. Now you can set up the timings of all your branches easily.
Some restaurant owners have several stores located in different places. They use location trackers for each branch to change the timings and food availability. But, that process ends up in a mess.
To neglect that, the WP store locator helps you set up all your store locations on a map and mention the timings based on the store conditions.
So, customers can easily find the nearby store and know the food availability. Then, they can easily choose alternate branches for picking up their favorite food.
Customers can create custom labels to add different placemarks based on their flexibility. You can drag and drop the locations on the map. So, the chances of engaging with your shop will be higher.
They can use multiple filters like radius, category, and others, to find their suitable area.
4. Five-Star Restaurant Review
Great reviews make your store popular and create a positive vibe within you.
The five-star restaurant review plugin collects reviews directly from WordPress. Display them on your store site easily in an SEO-friendly manner.
Your restaurant site's reviews and testimonials are collected directly from WordPress. The plugin displays all of them by its schema markup.
Also, it is an SEO-friendly one. So, search engines identify and integrate reviews with your list.
Create unlimited reviews and allows you to add photos to that. Its mobile-friendly usage serves a responsive layout on all sizes of screens. So, our customers can have flawless access on any device.
There are multiple templates available in this plugin. Choose the suitable ones for your store and collect 5-star ratings from your customers.
The more good reviews, the more sales.
5. Jetpack
For every website, security is a must-wanted one. Jetpack provides high-tech security for your site. Also, it helps to save all your site data by backing up.
Thus, backup and security both come in a single pack. Grab and utilize based on your business need.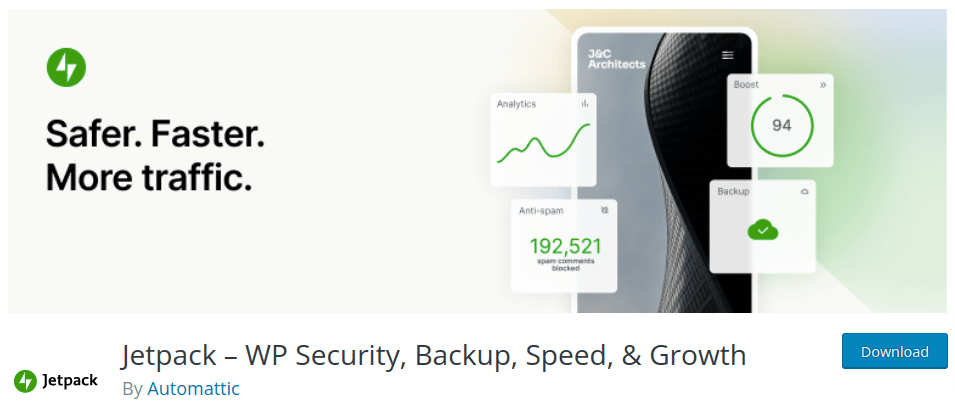 All your real-time modifications will save as a backup with this plugin. It protects your site from different malware with its safer security feature.
Improve your site performance by speeding up your site to help visitors easily find your store site. Provides secured logins to access.
The main thing is that it provides a free CDN to deliver the content instantly. Auto-share the posts on social media to get some reach.
6. WP Pizza
If you're a Pizza shop owner, WP Pizza is for you. Also, it serves its best for other restaurateurs to sell different-sized foods (from large to small).
It helps to manage orders and add different menus to attract your customers. Generate your sales reports in no time.
Customers can pay through different payment options based on their flexibility. Check the availability status to deliver the food properly. The plugin is a multilingual and multisite supportable one.
Build relationships with your loyal customers by running rewards programs. It supports many extensions for adding ingredients and 150+ currencies.
7. WPFunnels
If you want to increase sales and enhance customer engagement in your restaurant business, WPFunnels would be the perfect tool for you.
WPFunnels is a powerful plugin for creating a highly converting sales funnel without any technical knowledge.
With its intuitive visual funnel builder, you can effortlessly map out a seamless customer journey, from the initial landing page to the final checkout.
It has pre-built templates so you can kickstart your funnel creation process with a professional touch. Also, you can make attractive order bump, upsell, and down-sell offers to entice customers to add more items to their cart, effectively increasing your average order value. 
Moreover, with WPFunnes you can connect automation and CRM tools, and streamline your email marketing efforts. 
So, In less than 15 minutes, you can transform your online presence and drive higher sales with WPFunnels.
8. Product Feed Manager for WooCommerce
If you're looking to expand your reach in popular marketplaces like Google Shopping, Facebook,eBay, Bing, and Instagram then Product Feed Manager for WooCommerce would be the go-to option for you.
It allows you to create accurate product feeds for 170+ online marketplaces in just a few clicks.
Plus, it has some amazing features like category mapping, custom fields, and product filters so you can ensure that your menu items are presented with all the necessary and relevant information, enhancing their appeal to potential customers.
Scheduled feed updates keep menu data current, ensuring that customers have access to the latest offerings. Integration with analytics and tracking mechanisms like Google Analytics and Facebook Pixel allows you to gain valuable insights into customer behavior and refine your marketing strategies.
In cases where no pre-defined templates exist, the plugin allows you to create custom feeds with unique requirements.
Through the Product Feed Manager for WooCommerce, restaurant businesses can significantly expand their online presence and ultimately increase sales by reaching a wider audience on diverse online marketplaces.
9. Yoast SEO
Offline, you have done some strategies to push your restaurant store to the top position. Likewise, you have to do some work online to rank your store site higher on the search engine result pages.
We need the best plugin to rank our site higher without getting spam. It also increases our site's health.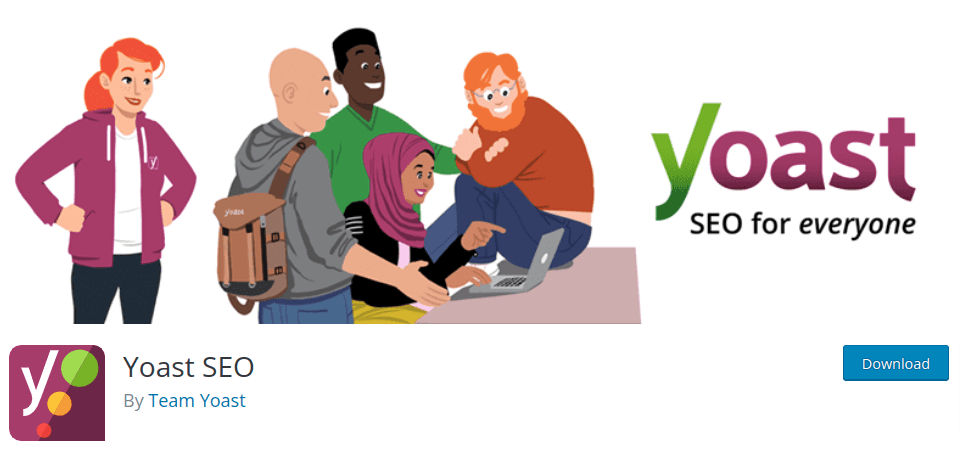 For that, the Yoast is here.
Builds our On-Page SEO scores by suggesting to improve our site's readability scores, meta tags, focus keyphrases, image alt texts, etc.
It helps to maintain a faster loading time for our site. The XML sitemap provided by Yoast helps search engines understand the paths of our site clearly.
Support multiple languages so that users from any region can work flawlessly. Also, it provides a preview feature. So, we can see how our pages look in SERPs without publishing.
Conclusion
In this modern era, we try new things and create many different dishes daily. There is no full stop to our creativity. The food industry will boom in the future.
I've clearly explained the factors and plugins to maintain your site health and increase sales conversion rates. If I missed anything, feel free to mention that in our comment section.