Extra Product Options (Custom Addons) for WooCommerce
WooCommerce Extra Product Options allows you to add custom product fields (options) and customize your WooCommerce product pages based on your niches.
Easily Customize your WooCommerce Product Pages for Personalized Shopping!
Create extra (custom) product options with our WooCommerce extra product options plugin. Add, edit, delete, and modify the custom product options (addons) on WooCommerce.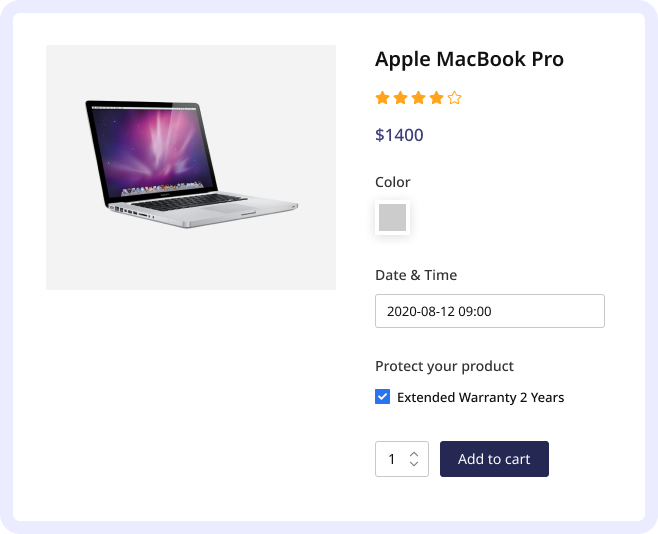 19+ Custom Product Fields
Discover extensive extra custom product options to improve your offerings
Custom Product Forms / Sections
Group related product fields to create custom product forms and sections efficiently
Dynamic Fields / Conditional Logic
Showcase custom product options based on user-defined conditions effortlessly
Hidden Input
Conceal sensitive data from customers, accessible only to administrators for security
Set Price Options
Define precise prices (in % and fixed amount) with our customizable value options
Automatic Field Validation
Ensures accurate and complete user-provided data integrity on the product form
Create Custom Product Options (Fields)
Amplify your product range with ease through our WooCommerce Extra Product Options plugin. Choose from 20 diverse field types, expanding beyond typical WooCommerce extra product options.
Showcase your products creatively. Moreover, customize individual pages by revealing or hiding fields to suit your preferences.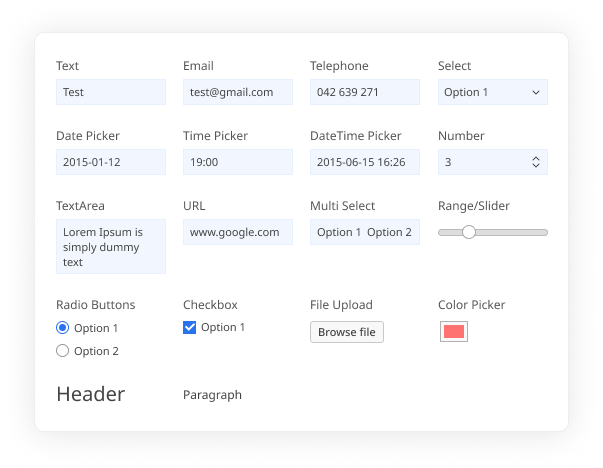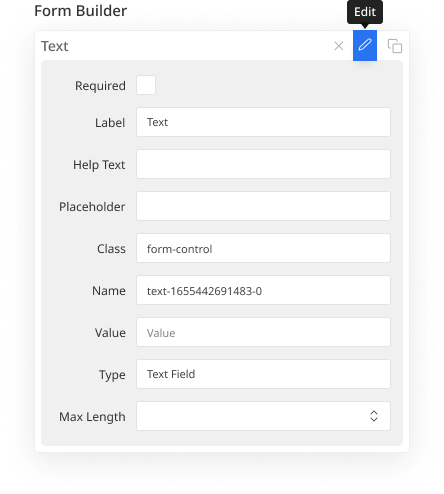 Edit Custom Product Fields
WooCommerce extra product options plugin allows users to change the custom product fields with full options. They are:
Create Custom Product Sections (Forms)
Elevate your product presentation with the intuitive organization of related WooCommerce extra product options into dedicated sections!
Improve the shopping experience by enhancing clarity and user-friendly simplicity. With our product customization plugin, you can create a group of custom product options and link them to any products you want.
Just like fields, you maintain complete control over when and where each product section is displayed, enabling you to curate the perfect browsing journey for your customers.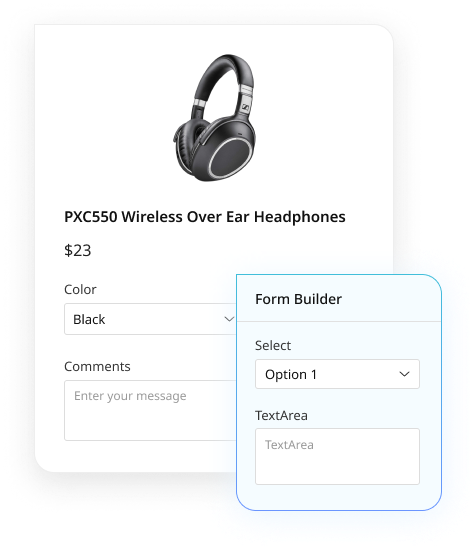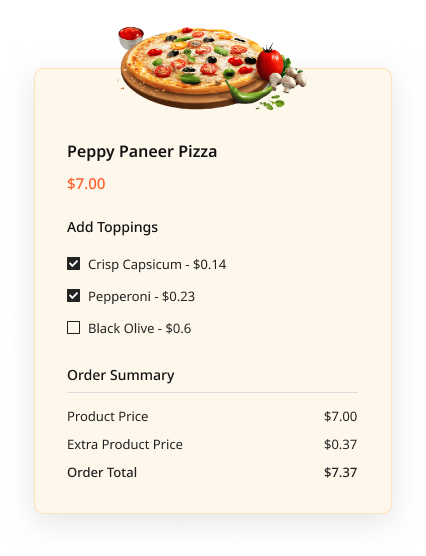 Add Extra Charges / Price
Enjoy convenient pricing for additional product choices like toppings, flavors, etc. Easily apply extra charges for the options provided on your product page with our custom pricing methods. Tailor your pricing effortlessly and enhance the appeal of your product offering.
A fixed value (amount) will be added to the product's total price.
A percentage of the product price will be added to the total cost.
Color Picker & Range / Slider
Showcase a spectrum of colors and empower your customers to envision perfect choices. Whether a gradient of options or a precise selection, our product fields ensure a user-friendly experience that transforms complexity into ease.
Say goodbye to complicated processes, and give your customers the power to effortlessly navigate and select their preferred shades or ranges – a revolution in choice personalization awaits.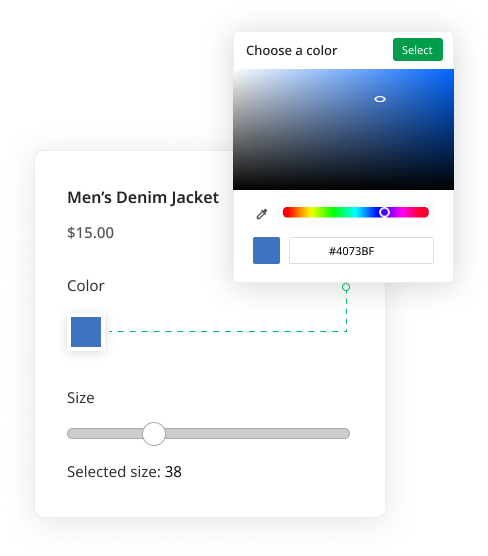 Now allow customers to easily pick dates and times using your very own custom calendar. WooCommerce extra product options let you showcase your store's opening hours and holidays hassle-free. Simplify the booking and scheduling process, giving your customers an unmatched level of convenience and insight into when you're available with extra product options for WooCommerce plugin.
Envision your customers effortlessly including web links directly onto your product pages with our product customization plugin. Whether they're sharing images, website URLs, or sparking inspiration for personalized products like t-shirts, this WooCommerce product options plugin streamlines the process.
Promote your store by enabling customers to infuse their products with a personal digital touch, all through the convenience of URL uploads with extra product options for WooCommerce plugin.
Let creativity flourish as you offer a unique customization experience with our WooCommerce extra product options plugin. Our File Upload feature enables your valued customers to effortlessly share images, files, documents, and more on the product page. Whether they're personalizing t-shirts with logos, adding special touches to their orders, or crafting bespoke designs, this extra product options for WooCommerce tool makes it a breeze.
Elevate your store's offerings by giving customers the power to shape their products, all with the convenience of seamless file uploads using extra product options.
Discover the power to choose where fields appear on your product page, optimizing their placement concerning the "Add to Cart" section with our WooCommerce product options for a seamless shopping journey.
Conditional Display of Field & Sections
Simplify your store with our WooCommerce extra product options plugin's smart feature. Conveniently decide when to display certain fields and sections. Keep things neat by revealing extra product options on WooCommerce only when necessary. Whether it's specific products or categories, you're in control. Make shopping unique and straightforward for your customers.
Our WooCommerce extra product options plugin ensures the product fields seamlessly blend into your theme's design, creating a unified and visually pleasing shopping experience. No need for manual adjustments or worrying about mismatched aesthetics.
Elevate your store's presentation and captivate your customers with consistent and appealing design aesthetics.