Introduction
In these competitive times, securing a profitable eCommerce business entails more than just having a nice e-store with some cool products.
The competition is fierce, and you must arm yourself with tools that will increase your productivity while decreasing your costs.
This article will teach you about a fantastic set of tools that will assist you in scaling your online store to the next level, streamlining operations, and positively impacting your profit.
See our FREE WooCommerce Optimization Guide for more info.
The Top Free Tools for Running an Ecommerce site
When it comes to growing a profitable eCommerce business, WooCommerce is number one in the game.
This is because of how boundless and versatile the WooCommerce platform is. The reason why WooCommerce is the number one eCommerce platform is chiefly that it is an open-source platform.
This means there are no limits to how you want to customize and personalize the platform to suit the dreams and aspirations of your e-store.
Another reason is that WooCommerce is built upon the WordPress ecosystem, which means that every WordPress resource is compatible with WooCommerce. Again, this is an uncommon trait among the eCommerce platforms.
WooCommerce is a WordPress plugin, and with that clue, you must realize that if you want to succeed with your online store, you must consider plugins.
Let's take a look at the plugins we handpicked for you that will change your online store experience forever:
OptinMonster
One essential tool you must have in your WooCommerce arsenal that will help you make sales in your online shop is the OptinMonster plugin.
This awesome WordPress plugin helps you monetize your website traffic. It is currently used by over 1,213,437 websites, yes, that's how useful this plugin is.
The OptinMonster plugin will generate more subscribers, leads, and sales from your existing traffic.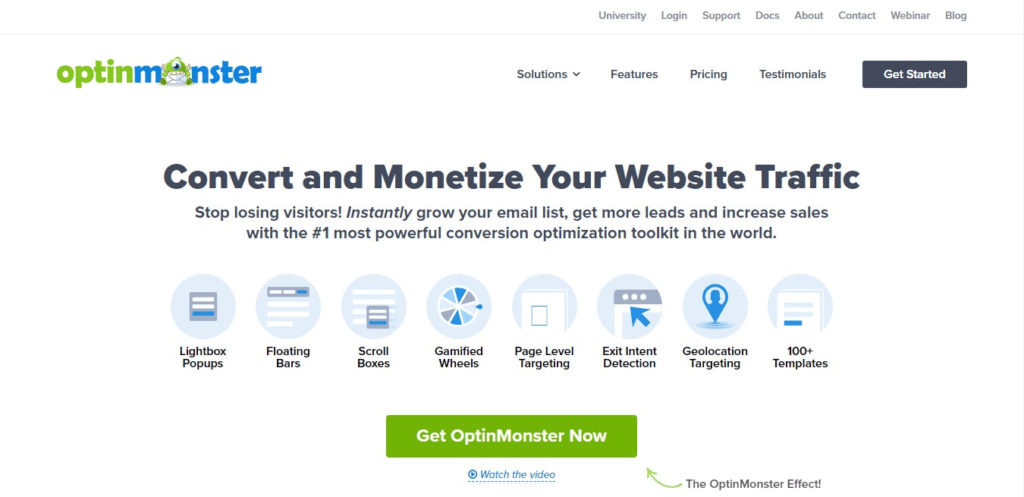 OptinMonster allows you to create a visually appealing offer for your website's visitors. It gives you the option of designing from scratch with a blank canvas or using a pre-built template designed for maximum conversions.
It also includes a drag-and-drop builder that requires no coding knowledge.
Although the free plan is not displayed on the main website, you can get the free version of OptinMonster by installing and activating their WordPress plugin. You will find the option to create a free account within the plugin.
Here are some examples of WooCommerce popups made with OptinMonster: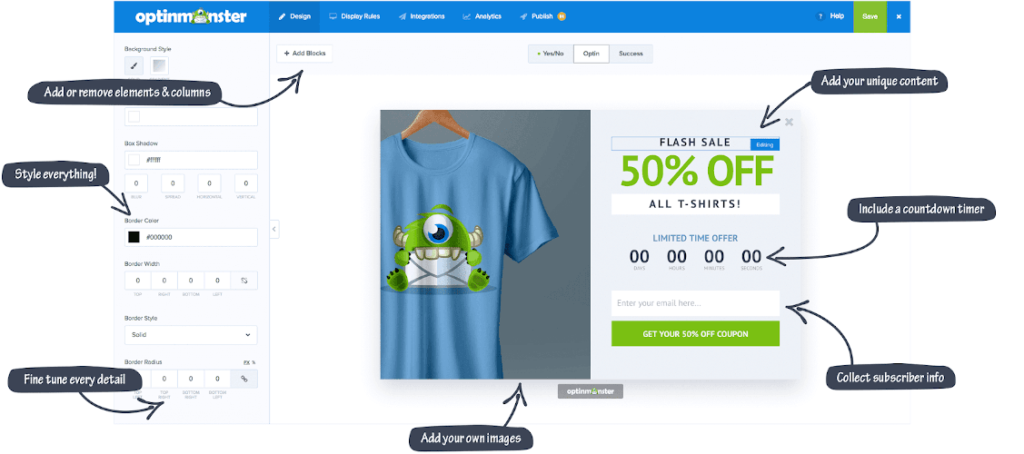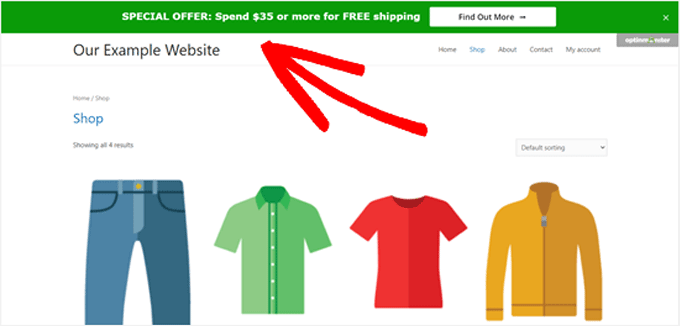 WISDM WooCommerce Product Catalog Mode
One of the most frequently asked WooCommerce questions is:
How can I use WooCommerce to create a product catalog without the add-to-cart button or price, just a product gallery?
Using WooCommerce for this scenario is highly beneficial, especially if you do not want guest users to click on certain buttons on a product.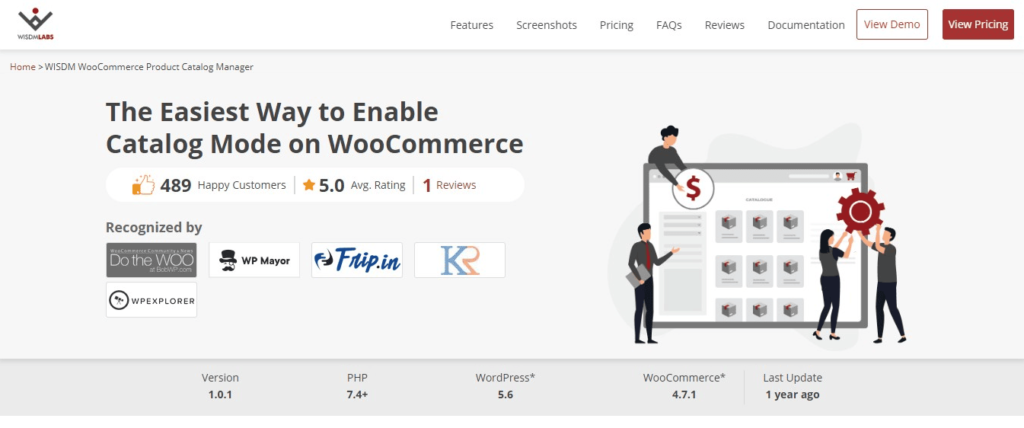 Furthermore, some products on your WooCommerce website may be for sale, while others may not be or are restricted to members only. You'd want to disable the add-to-cart functionality from specific categories or products in this case.
This is where the WISDM WooCommerce product catalog mode comes in handy.
You can hide product prices and the "Add to cart" button for guest users using this plugin.
Furthermore, you will be able to:
Hide pricing and the buy button to showcase upcoming products, sell custom-priced services, or create a store catalog.
Allow only registered users to purchase products from your WooCommerce store, and prevent site visitors and guest users from doing so.
Increase appeal by preventing guest visitors from viewing product details such as price and from making a purchase, among other features.
WooCommerce Payment
This is yet another marvel in the world of WooCommerce. Before this amazing free tool, you would frequently use a third-party gateway to collect payments online.
This payment solution is fully integrated with WooCommerce, and you can use it with confidence on your e-commerce site because it is developed and maintained by WooCommerce.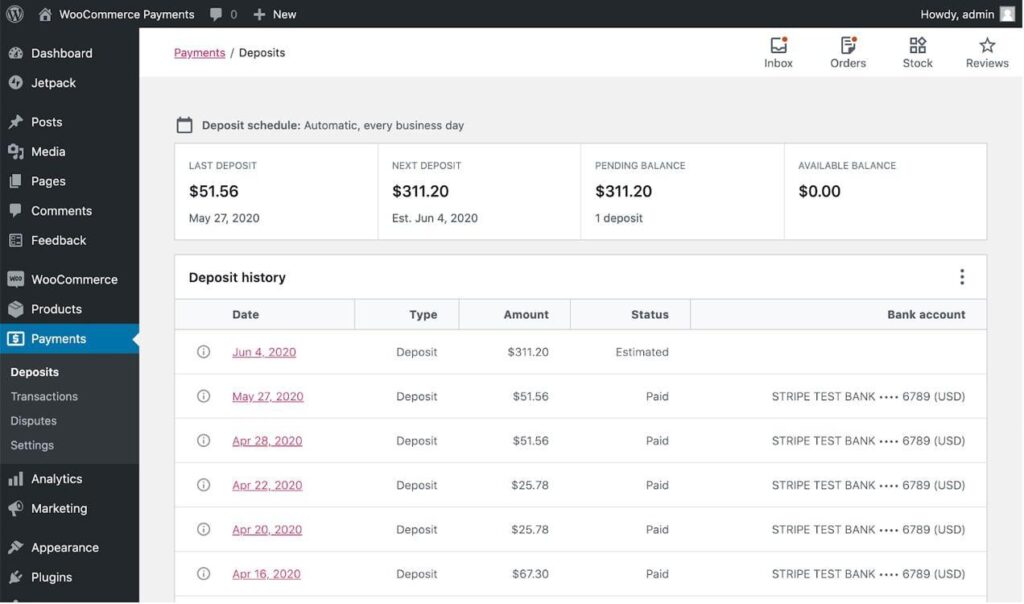 It accepts credit/debit cards as well as local payment methods, and there are no setup or monthly fees, which is considered to be a blessing.
Another amazing feature of this product is that it is completely free and available in all major countries, as listed below:

It accepts over 135 currencies and allows you to charge recurring payments, use instant depositing, and do other things.
WooCommerce payment can also integrate with Apple Pay, Google Pay, Giropay, and other payment methods for a more streamlined checkout process.
WooCommerce Shipping
Order fulfillment and shipping can take time. WooCommerce Shipping, on the other hand, was created to make things easier for store owners.
With WooCommerce Shipping, you won't have to waste time copying and pasting order details into fulfillment software – everything you need is right in your WooCommerce dashboard.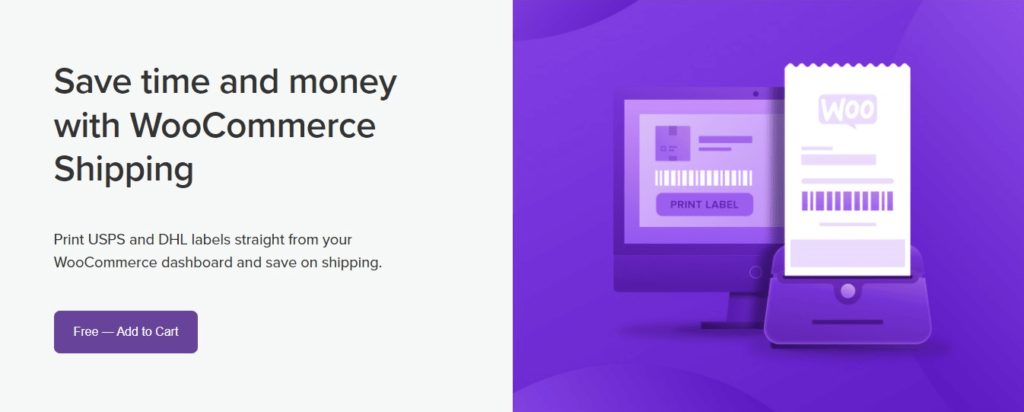 One important takeaway from this plugin is that it allows you to start globally. Yes, you can begin shipping internationally right away thanks to DHL's built-in integration and useful tools.
You can also print and manage USPS and DHL labels from your dashboard — even while you're on the go — and enjoy significant savings on shipping costs.
This is a highly recommended FREE plugin you can start using right away to streamline your Logistic operations, improve efficiency, and reduce business costs.
WooCommerce Tax
Tax calculations can be time-consuming and tedious, which is why you need a tax calculator.
Why waste time and money looking for tax professionals or a third-party tax calculator when you can simply use the free integrated WooCommerce plugin?
WooCommerce Tax calculates how much sales tax should be collected at the checkout for WooCommerce orders based on city, country, or state. Isn't that fantastic?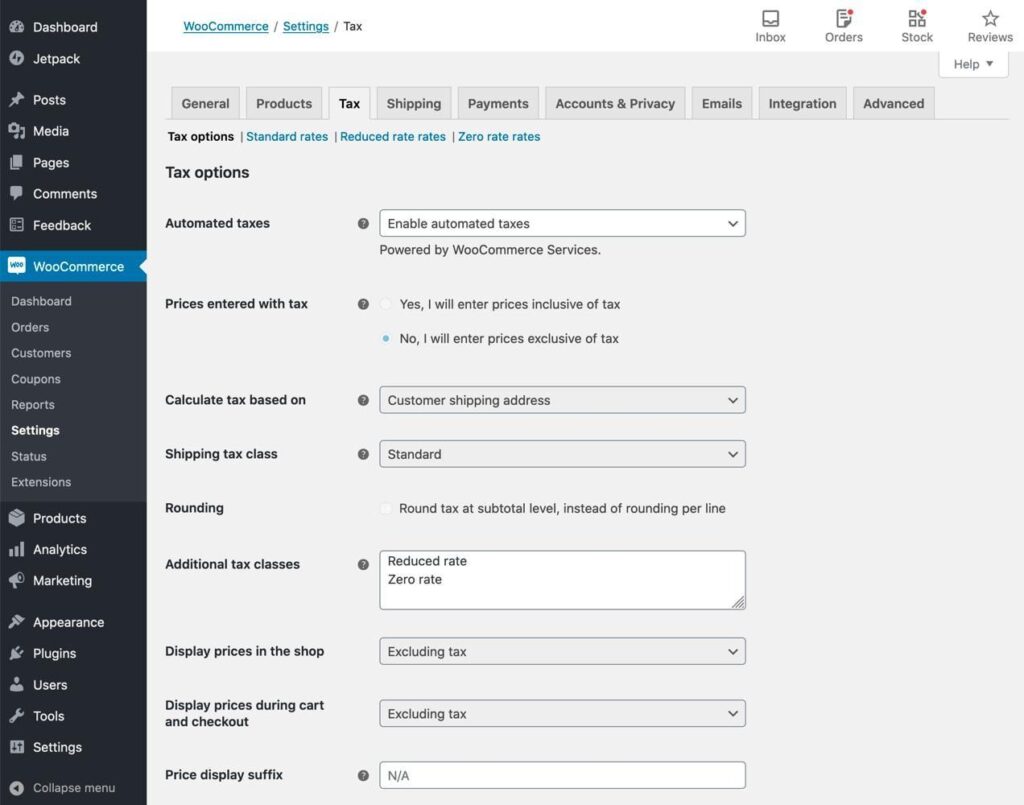 The main takeaway from this tool is that it allows you to automatically and accurately calculate sales tax by city, country, and state. WooCommerce offers live support and is available in more than 30 countries. This is a significant advantage for global retailers.
The only reason why you shouldn't be using this tool is if you are professional or simply enjoy spending hours calculating. Else, you'll continually be grateful to WooCommerce Tax for providing this tool.
After it is set up, you can concentrate on the more important aspects of running a store while still adhering to local regulations.
Check out these 101 Questions To Help You Hire the Right WooCommerce Developer.
Extra Product Options (Custom Addons)
Easily customize your WooCommerce product pages based on your business niches with the extra product addons plugin.
Add 16+ different custom product fields to acquire more from your customers on the product page. Let your customers personalize their purchases. Add, edit, delete, duplicate, and modify the fields on to provide a relevant and customized product page.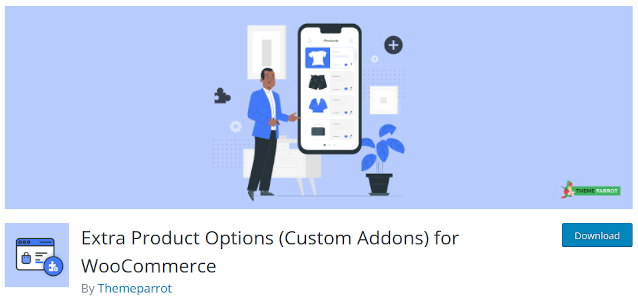 Dynamic fields (conditional logic), set price options, and more customizable options are there to explore your product pages!
Define your product and show all the features to ease your customers and improve sales conversion rates. It also helps to increase user engagement on your site.
Checkout Field Editor and Manager
Customize the WooCommerce checkout pages of your WooCommerce store with its 17+ custom checkout fields.
Add, edit, delete, and modify the fields in the billing, shipping, and order sections. Create custom sections and position them easily wherever you want on the checkout.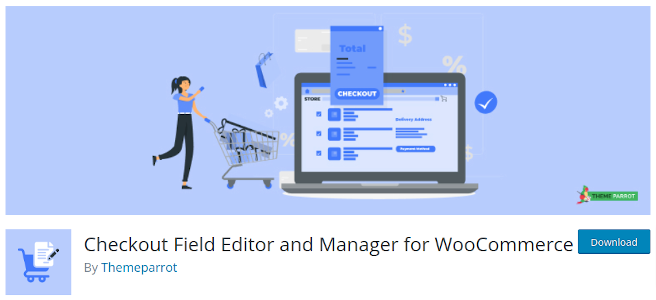 Automatic field validation ensures your data quality. Edit the input field label, class, type, and placeholder of the fields. Make a specific field required based on its importance. Duplicate fields to reduce your workload.
Capture more from your customers like delivery instructions, order delivery dates, customer identification numbers, and some others during their checkout.
AffiliateWP
This is an important tool for promoting your various products and services online. The tool will help you gain a higher visibility meaning, more people will visit your website, and see your products and services.
It has an easy setup process ensuring that your Affiliate Program is up and running in minutes with a simple installation and activation option. It's also extremely adaptable. You can either limit your program to hand-picked participants or allow anyone to participate.
The plugin also includes a payouts service, which allows you to pay your affiliates directly from your WordPress dashboard. You can also use PayPal, Stripe, or other online payment methods.
If you want a plugin that will track your affiliate referrals reliably, even on servers with aggressive caching then AffiliateWP is a good fit for you.
WooFunnels
WooFunnels is an excellent tool for developing high-converting checkout pages, order bumps, one-click upsells, and profit-boosting automation.
It's essentially a WordPress ClickFunnels replacement that assists store owners in increasing revenue through optimized sales funnels and automation.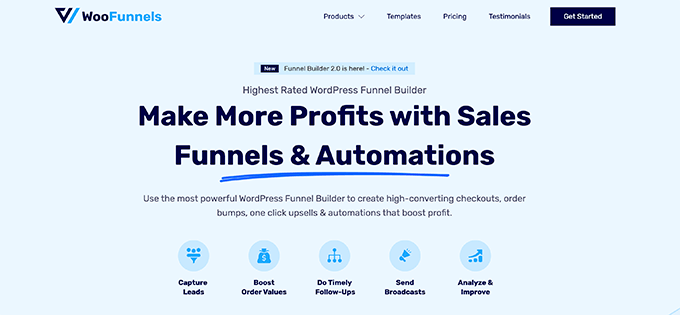 The key features that make WooFunnels a must-have tool for growing and establishing an online store are as follows:
It allows you to create a Shopify-style checkout, two-step order forms, express pay options, and other cart abandonment-reducing features.
It also allows you to create dynamic post-purchase rule-based offers and one-click upsell offers that buyers can accept with a single click.
WooFunnel is a WordPress funnel plugin that can automate your campaigns for lead nurturing, welcome series, post-purchase upsell, and customer win-back.
LiveChat
Live chatting capability is another essential tool for growing your online store at this time. According to data, more than 67 percent of customers abandon their shopping carts before making a purchase. And this is heavily influenced by customers' urgent need to find answers to their questions.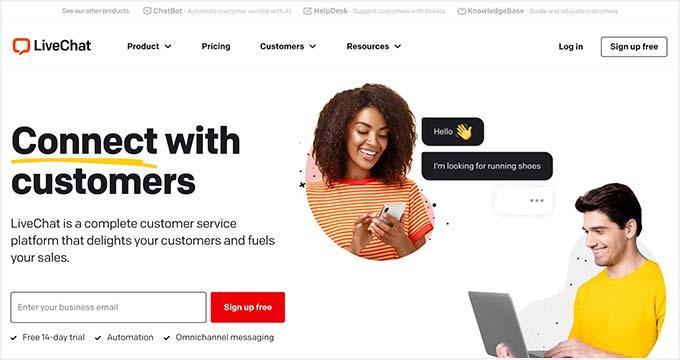 Look at the other best live chat support software on the market also. It enables you to quickly add live chat to your WooCommerce store and respond to user queries.
It enables you to convert visitors into customers before they abandon their shopping carts. LiveChat integrates with Google Analytics, all major email marketing platforms, CRM software, and more.,lk
RafflePress
Building a comprehensive email list is a must-have thing you should accomplish in your online store business.
For packaging a great email list, we recommend RafflePress. It is the best WooCommerce contest and giveaway plugin. You can grow your email list, website traffic, and social media followers by hosting viral contests and giveaways.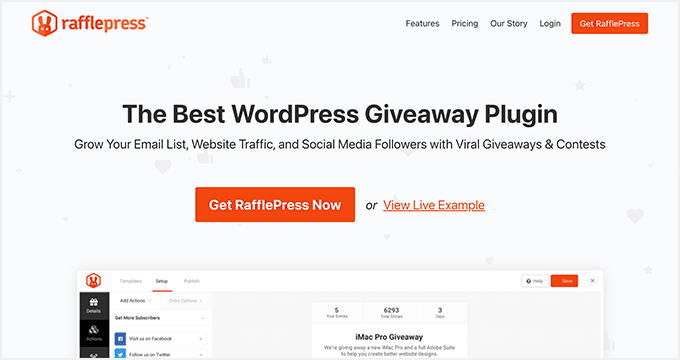 Your users can enter the giveaway by tweeting, watching a video, or following a social media profile, among other things. It includes actions for all major social media platforms, CRM systems, and more.
Users can earn extra entries by completing bonus action items such as "Joining your Facebook page" and others.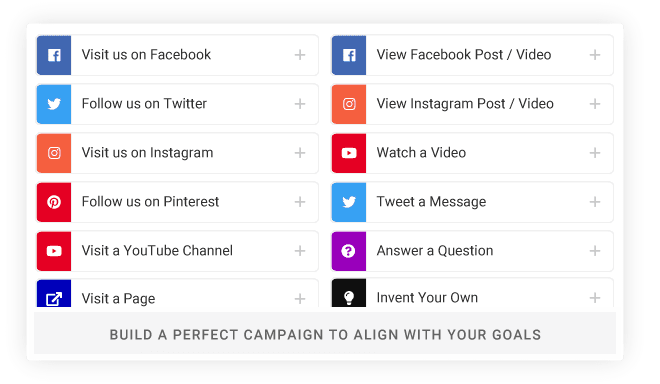 It includes verified social actions and fraud prevention for the best results. This ensures that your viral campaign generates genuine engagement and growth for your company.
They also offer a free version that can be used for basic giveaways.
That is it for the top free tools for running an online store.
Conclusion
Begin with a few of the above-mentioned free tools to improve the customer experience, secure your website, and improve workplace operations. Significant changes to your store and operations do not necessitate a large budget.
We hope that this article has greatly helped you in your search for the best free WooCommerce plugins for your online store.
If you want a professional-grade online store with more features than the free plugins mentioned above. Then I recommend that you check out our fantastic WooCommerce services to get started.
Remember that as your business grows, you should always be investing in new tools and improving your processes.
See you next time!