Checkout Field Editor and Manager for WooCommerce
WooCommerce Checkout Field Editor and Manager plugin helps to easily customize your checkout pages based on your business niches.
Provide a Clean & Customized Checkout Page for your Customers
Add, edit, delete and modify the custom and default checkout fields with our WooCommerce custom checkout fields editor and manager plugin to get a fully customized checkout page.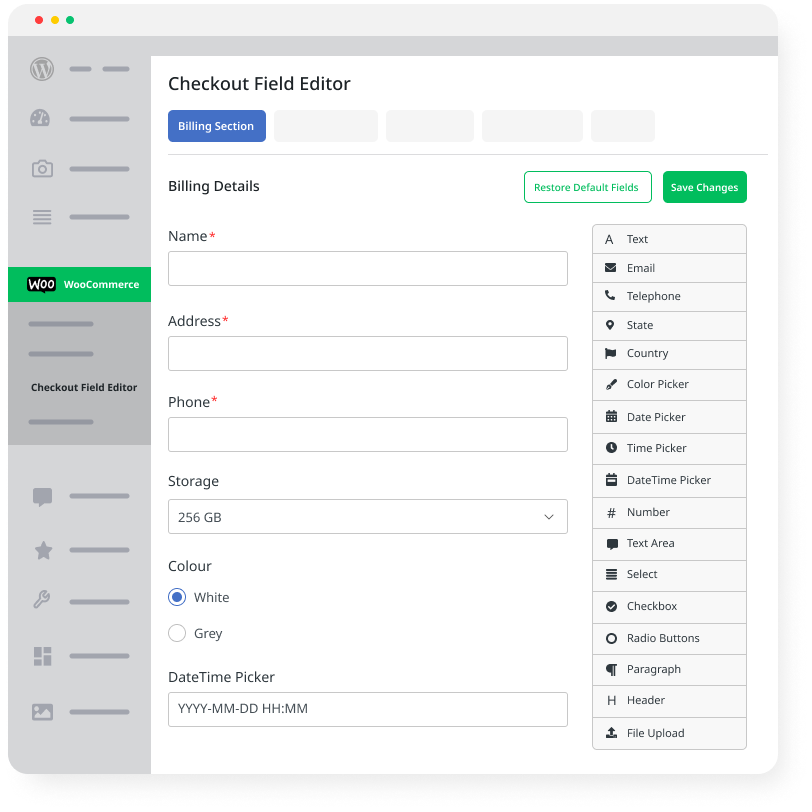 17+ Custom Checkout Fields
Provides seventeen plus different custom fields to your checkout
Custom Checkout Sections
Create a group of related fields to make a custom checkout section
Billing & Shipping Sections
Create custom fields in the Billing and Shipping sections of your checkout
Create Order Section
Helps to take special notes about your orders for delivery
Easy Section Positioning
Position the custom checkout sections anywhere on your checkout form
Automatic Field validation
Validates your WooCommerce checkout fields based on user inputs
Drag & Drop Form Builder
Simply drag and drop the custom WooCommmerce checkout fields
More Customizable options
Modify, add, edit, delete custom WooCommerce checkout fields
WPML Compatibility
Users work with their preferred languages on our plugin

Capture more information from your customers during their checkout process by providing custom checkout fields. Get WooCommerce checkout field editor pro to explore all the features.
WooCommerce checkout plugin provides the following custom fields: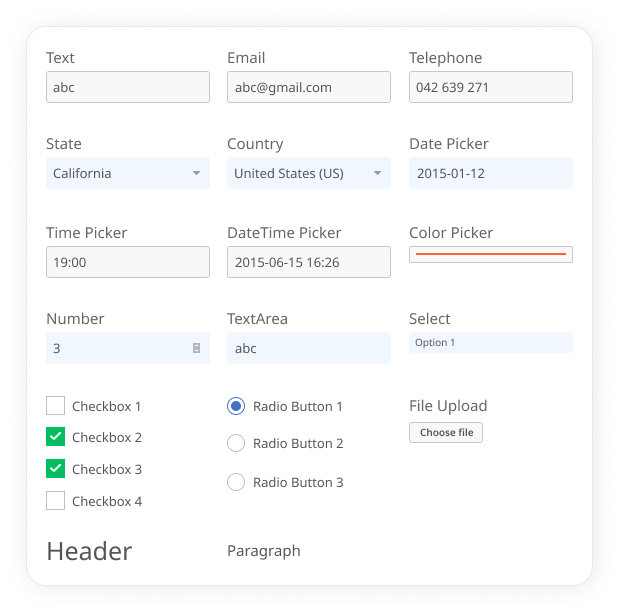 Customizable Checkout Options
Add, edit, delete, modify the fields in the billing and shipping sections of your WooCommerce platform with this custom checkout fields plugin.
Create custom sections based on your niche for your flexible use. Simply drag and drop from the 17+ custom checkout fields to make your custom section
Edit - Default & Custom Fields
Checkout field editor for the WordPress plugin allows users to make changes to default and custom checkout fields with full options. They are:

Customize the Checkout Form
On default WooCommerce, you may find some irrelevant checkout fields for your business need. You can delete the unwanted checkout fields by clicking the 'Remove' option.
Add relatable ones by simply dragging and dropping them to your checkout with our WooCommerce easy checkout field editor plugin.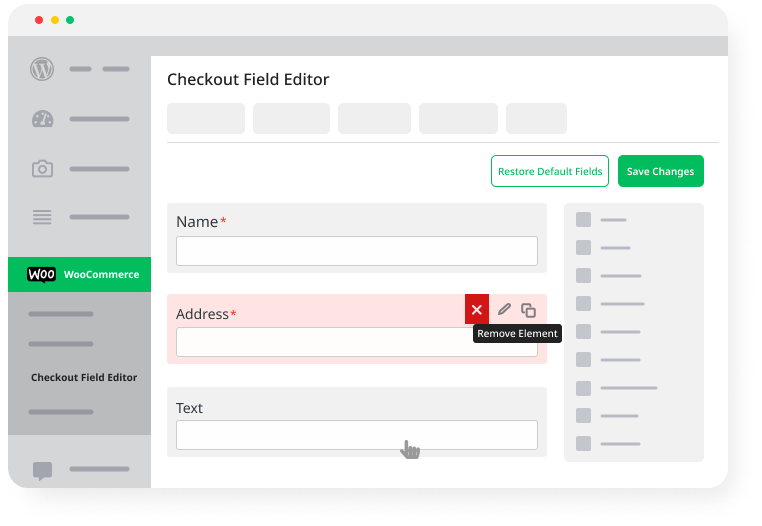 Duplicate the Checkout Fields
Make copies of the default and custom checkout fields with all their properties in no time.
Just click the "Copy" option on the respective field. Make duplicates of your WooCommerce checkout fields to save time.

Checkout Section Positioning
Create custom checkout sections and set the display position at 13 different places on your checkout page.
Place the checkout sections before or after the customer details, billing details, registration form, shipping details, additional information, and order review.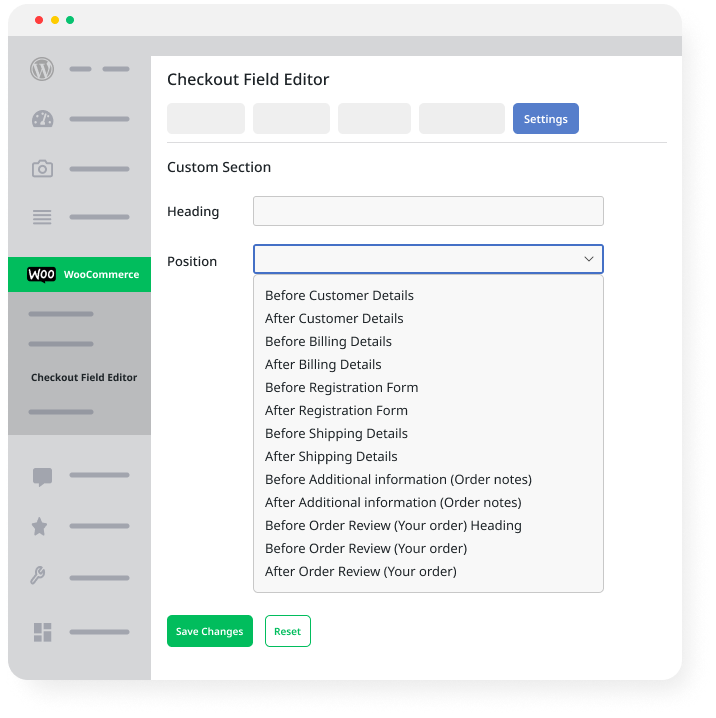 Help your customers know the purpose of the checkout fields you provide. It displays a pop-up message containing the info of the respective checkout field type.
A small question mark is on the top right of the field. Hover the mouse over that to see the full info of the checkout field.
Let your customers upload files while adding an item to the cart. They can upload a logo to print on the T-Shirt, pictures of somebody to print on the birthday cakes, etc.
The field type can collect images, PDFs, documents, word files, drawings, and more.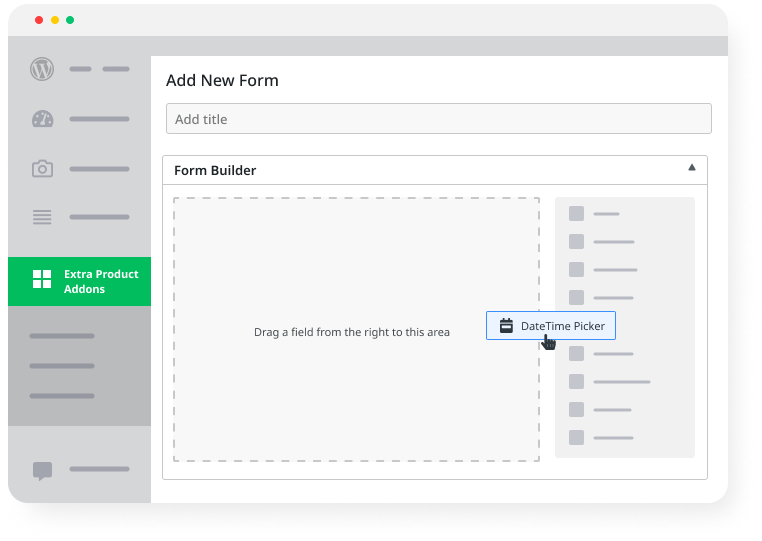 Simply drag and drop from the 16+ custom product fields to make a product form. Add the created product form to your WooCommerce product to get displayed.