Checkout Field Editor and Manager for WooCommerce
WooCommerce Checkout Field Editor and Manager plugin helps to easily customize your checkout page based on your niches.
Provide a Clean & Neat Checkout Page for your Customers
Add, edit, delete and modify the custom and default checkout fields
with our WooCommerce custom checkout fields editor and manager plugin
to get a fully customized checkout page.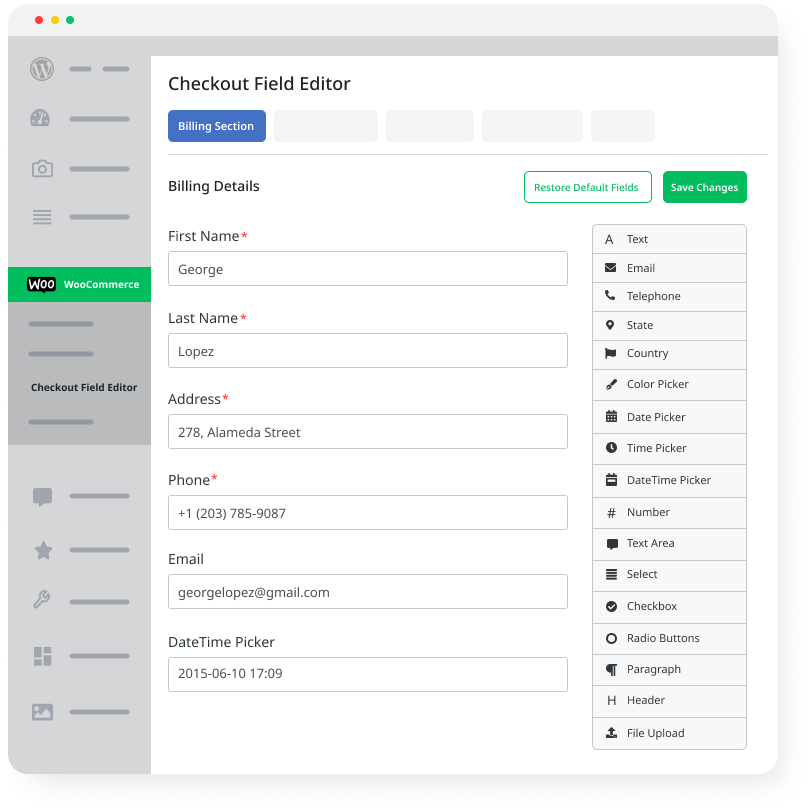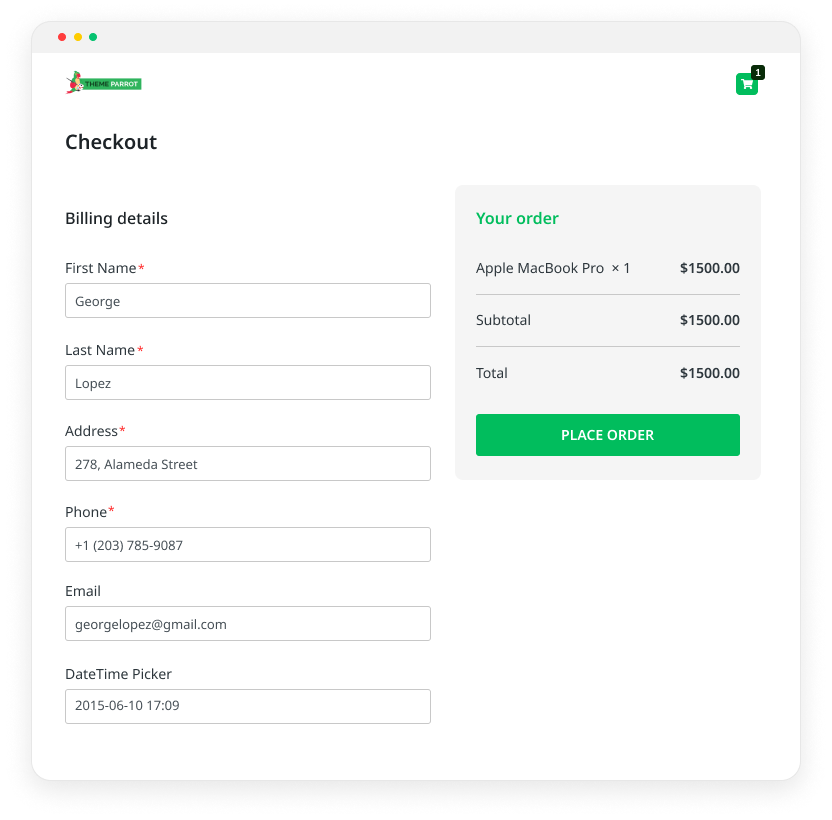 The plugin comes with a user-friendly interface and its look was so dynamic. This allows you to optimize the checkout fields to capture details like your customer's date of delivery, the color of a product they want, upload an image or file, and so on during the checkout process.
WooCommerce easy checkout field editor comes with a drag and drop form builder which helps to add extra checkout fields easier than before. It works fast enough to do your process. No need for any coding knowledge.
WooCommerce checkout field editor and manager provides the following custom fields: Text, Email, Telephone, State, Country, Color Picker, Date Picker, Time Picker, DateTime Picker, Number, TextArea, Select, Checkbox, Radio Buttons, Paragraph, Header, and File Upload.
WooCommerce does not allow you to edit or reposition the checkout fields by default. But, Custom WooCommerce checkout fields editor plugin helps you with customizable options. An optimized checkout process leads to increase sales as customers will be able to complete the checkout quickly and place an order.
Edit - Default & Custom Fields
Checkout field editor allows users to make changes on both existing and newly created fields. Editing possibilities for the default fields are limited. But, you are allowed to edit the custom fields with full options.
Now, you can place the checkout fields anywhere on the page based on your niche. Also, show or hide fields on various places like in the thank you page, product order page, etc. If you don't need your customer's last name or state, then you'll simply hide that from your checkout page.
Duplicate the Checkout Fields
Duplicate the default and custom fields with all of its properties simply with this WooCommerce checkout field editor. All you need to do is, hover the mouse over the top-right end of the field type, you're able to see the "Copy" option there, just click on it and the copy will be ready!
Custom checkout fields WooCommerce plugin provides 13 types of positions like before customer details, after customer details, before billing details, before registration form, etc. The sections can be placed at any position in the checkout field.

This feature helps to know the full information of the field. At the top right portion of the field, you can able to see a small question mark icon. If you hover the mouse over that, you'll be able to see the full info of the respective field. Get clarified yourself with this help text feature. You can simply enter the detailed information in the Help Text field and let your customers know about that without asking anybody!
You can let your customers upload files at the time of adding an item to the cart. Customers can upload a logo to print on the T-Shirt, pictures of somebody to print on the birthday cakes, etc. You can collect images, PDFs, documents, word files, drawings, and more with this field type.