Ecommerce has become the backbone of businesses worldwide, and having a strong online presence is crucial to thriving in the fast-paced digital world.
Are you looking to make online shopping effortless and enjoyable for your customers?
Then, this blog belongs to you!
In this article, we will explore why WooCommerce Extra Product Options are a must-have for online stores and how they can enhance customer experience.
The WooCommerce platform is excellent for setting up an online store. But for your Ecommerce business to thrive, it is essential to have a plugin that can enhance your customers' shopping experience. The WooCommerce Extra Product Options plugin has become increasingly popular among online retailers, and we will delve into its benefits for your online store.
What is WooCommerce Extra Product Options (Custom Addons)?
WooCommerce Extra Product Options is a powerful plugin that enhances the functionality of the WooCommerce platform for online stores. It allows store owners to offer their customers a wide range of product customization options. The plugin helps to add custom product fields, such as checkboxes, text areas, and file uploads, to products, making them more personalized and appealing to customers.
With the plugin, store owners can customize product options for each product, making them unique and tailored to the specific needs of their customers. This means that customers can select specific product options they desire for each item rather than being restricted to a limited range of options available for all products. The plugin allows store owners to set pricing for each product option, allowing them to charge extra for certain customizations.
For example, if a customer wants to add an engraving to a piece of jewelry, the store owner can charge an additional fee for this customization.
WooCommerce Extra Product Options also includes a user-friendly interface that makes it easy for store owners to add and manage their product options. The plugin is highly customizable, allowing store owners to create a unique set of product options that match the needs of their store.
It is easy to use, highly customizable, and provides store owners the flexibility they need to create unique products that appeal to their customers. If you want to take your online store to the next level, WooCommerce Extra Product Options is a must-have plugin that you need.
Benefits of Using WooCommerce Extra Product Options
Increased Sales
Providing customers with the option to customize their product preferences can enhance the shopping experience by making it personalized and tailored to their needs. It can boost the chances of a sale since customers tend to buy more when they have a say in the product they are purchasing. The WooCommerce Extra Product Options plugin offers a variety of customization options that can create a sense of uniqueness and ownership for customers.
Customization
The plugin offers an impressive level of customization to your products. Provide a wide range of customization options for your customers, including color, size, material, and much more. It allows customers to tailor their purchases to their unique preferences, resulting in a sense of ownership and satisfaction with their product. With the ability to customize products, you can offer a more personalized shopping experience that helps build customer loyalty and repeat business.
Improved User Experience
With this plugin, you can offer your customers a range of customizable options for each product, allowing them to personalize their purchases to their liking. By providing customers with more custom options, you can improve their overall experience on your site. It increases customer satisfaction, loyalty, engagement, repeat business, and positive reviews.
Streamlined Product Management
Managing customizable products and product bundles is a breeze. You can easily add, edit, and delete product options, making it simple to keep your store up-to-date and organized. It can save you time and effort in managing your product catalog, allowing you to focus on other aspects of your business.
Streamlined Ordering Process
With WooCommerce Extra Product Options, you can streamline the ordering process by providing customers with all the options they need in one place. Customers can easily customize their products and add them to their cart without any complications. It creates a hassle-free shopping experience for customers, leading to higher sales and customer satisfaction.
Improved SEO
By adding extra product options, you can improve the SEO of your website. It is because search engines like Google prefer websites that have unique and detailed product descriptions. By offering more options, you can create unique product pages that improve your store's visibility on search engines, which increases traffic and sales.
Flexibility
The WooCommerce Extra Product Options plugin is highly flexible and customizable. You can choose from a range of options and settings to tailor the plugin to your specific business needs. This flexibility allows you to create a unique shopping experience for your customers and maximize the potential of your online store.
Advanced Pricing Options
The plugin includes an advanced pricing feature that enables businesses to set prices based on product options or variations. This feature is particularly beneficial for businesses that offer customizable or multi-option products. Implement different prices based on the chosen options to increase the revenue and profitability of businesses, resulting in a more efficient and lucrative operation.
Easy To Use
Despite its advanced functionality, WooCommerce Extra Product Options is incredibly easy to use. You can quickly and easily add new options to your products without any technical expertise. It is an excellent tool for businesses looking to offer a more personalized shopping experience to their customers.
How to Choose the Right WooCommerce Extra Product Options Plugin?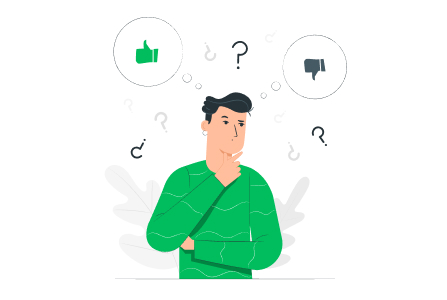 Extra Product Options plugin is a WooCommerce plugin that allows you to add custom fields to your product pages. It means that you can add fields like text boxes, drop-down menus, checkboxes, radio buttons, and file uploads to your product pages, giving your customers more options when making a purchase.
Choosing the right WooCommerce Extra Product Options plugin can be a daunting task. With so many options available, it's important to know what to look for when making your choice. Here are some key factors to consider:
Compatibility: Compatibility is crucial when selecting an Extra Product Options plugin for your WooCommerce store. Incompatible plugins can cause errors and conflicts, and damage the user experience. Check the plugin's documentation for compatibility with your version of WooCommerce to avoid issues. With a compatible plugin, you can provide a smooth shopping experience for your customers.
Features
To enhance your online store's functionality, consider a custom product options plugin with features such as customizable fields, conditional logic, pricing options, compatibility with your platform, a user-friendly interface, and support. These features can help you provide a personalized shopping experience that leads to increased customer satisfaction and sales.
Ease of use
For a smooth operation, prioritize ease of use when evaluating a custom product options plugin. Consider a plugin with a user-friendly interface, clear setup instructions, easy customization options, and dependable support. An easy-to-use plugin can help you deliver a better shopping experience, which leads to increased customer satisfaction and sales.
Support
Also, it's important to prioritize reliable support. Look for a plugin with clear documentation, customer support, positive reviews, and regular updates. With dependable support, you can quickly resolve any issues and focus on delivering a better shopping experience to your customers. So, avoid potential problems that may negatively affect your business.
Pricing
To ensure affordability, prioritize plugins that offer value for the price. Evaluate the plugin's features, licensing, support, and free options available to determine the cost-effectiveness. It's important to balance the cost against the benefits to ensure the plugin fits your requirements while staying within your budget.
Reviews
Reviews play a crucial role in assessing the reliability, functionality, and support of a custom product options plugin. Check the plugin's rating, the content of reviews, and responses from the support team to gain valuable insights into other users' experiences. It can help determine whether the plugin is suitable for your online store.
How to Use WooCommerce Extra Product Options for Your Online Store?
Enhance your WooCommerce store with more customizable choices! Learn how with WooCommerce Extra Product Options
To start using the WooCommerce Extra Product Options plugin, you first need to download the plugin file. And then, install and activate it on your WooCommerce site. Once you've done that, you can begin creating your product options.
Navigate to the Extra Product Addons and click the Add New Form.
On that page, you can provide the Title for the Product Form.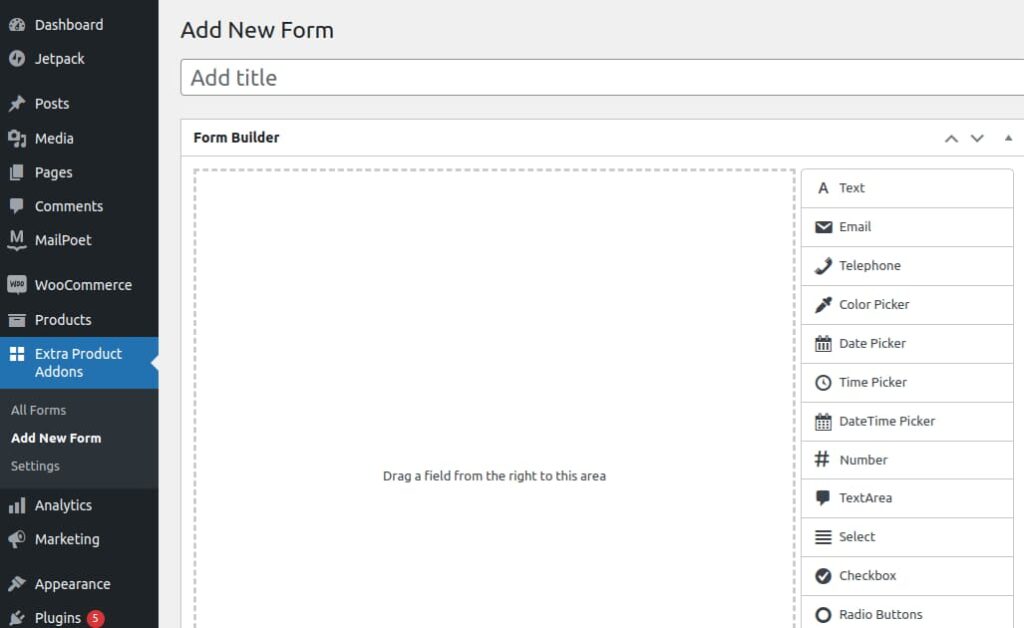 Simply drag and drop the custom product fields you want to add on the Form Builder area.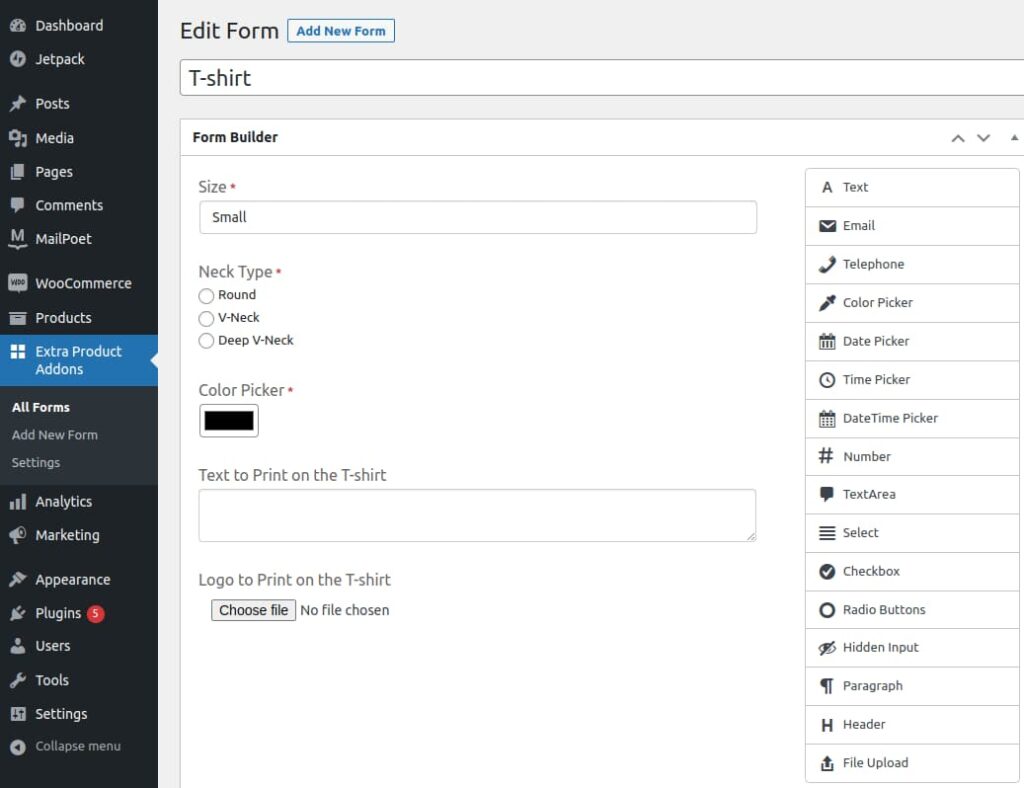 After that, click the Publish button on the right side of the page to save your changes.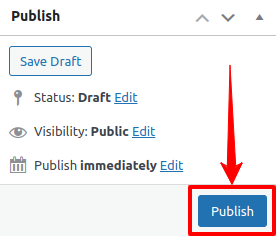 Now, you've successfully created a product form.
Then, you need to add the created form to the respective product you want. For that, navigate to the Products section on your WordPress backend. Click on the product page you want to add the form. On that page, scroll down to see the below-displayed portion. You can see the Extra Product Addons option.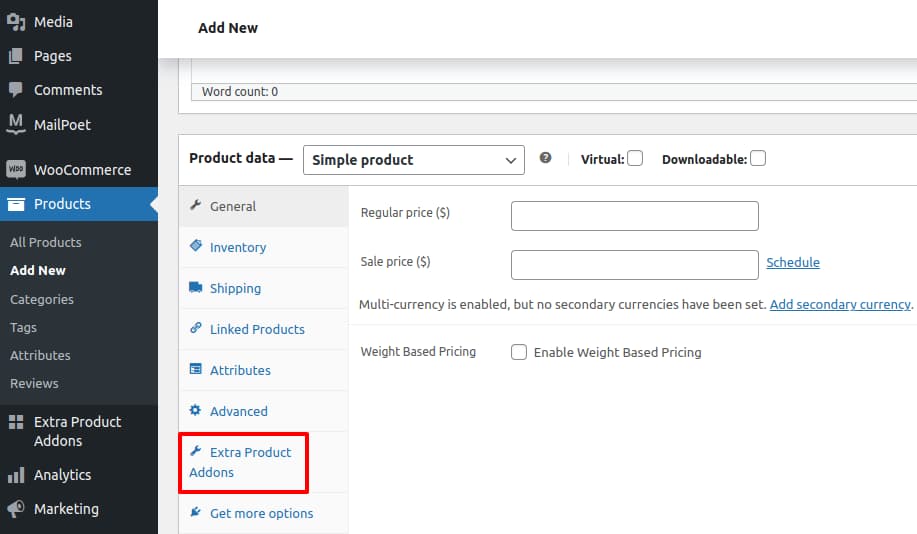 Click the Extra Product Addons option and then tick the created Product Form.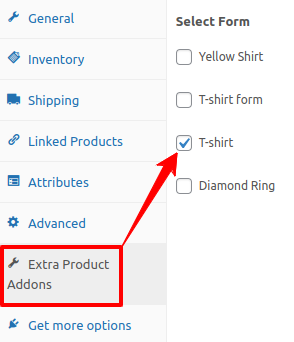 Finally, click the Update button on the top right side of that page.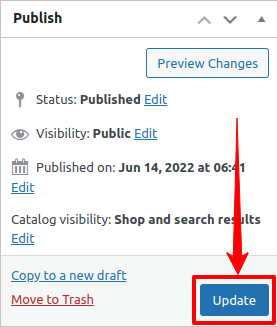 You can also add pricing rules to your product add-ons, like setting prices based on the options chosen. By providing more product options and pricing flexibility, you can attract more customers to your online store and increase your sales.
Want to explore all the customization options with the plugin?
Kindly Check here.
Conclusion
Offering extra product options on your WooCommerce store is a fantastic way to provide a more personalized shopping experience for your customers. But it's important to choose the right plugin to avoid any compatibility issues. Consider the above-said factors when selecting a plugin. Once you have the right one, using it to create personalized products is easy and intuitive. Your customers will appreciate the added options and your store's functionality and sales will benefit.
So don't hesitate to invest in a great WooCommerce Extra Product Options plugin!
Boost sales and customer satisfaction! Add WooCommerce Extra Product Options to your store today