All store owners always try a way to implement game-changing strategies to attain massive transformation. But most of the stores face a struggle to build one successful campaign to reach high-paying customers. One of the reasons might be choosing the appropriate plugin for the store. Since numerous plugins are available in the market, it will be hard to pick the right plugin.
In this article, different WooCommerce sales plugins are categorized based on the needs of store owners. Here, you can find effective plugins from the curated list of the best WooCommerce plugins in the WordPress platform.
How to Choose the Right Plugins for your Online Store?
WooCommerce is a great extension to build up your Ecommerce store. With available tons of WooCommerce products, the store owner can easily create a robust online store. But finding an adaptable tool to successfully run the WooCommerce store is one of the hardest tasks. The presence of high-quality plugins will make you overthink downloading a single plugin.
Don't worry, here, you will find the various categories of WooCommerce plugins to boost your online sales. The curated list is created based on a few factors to provide quality output for the Ecommerce store.
Before ahead, you need to understand a few aspects for finding the right plugin like
Shortlisting plugins based on the focused niche
Think of your audience's requirements
Check the updated version status & compatibility
Look out for the plugin's active install users and reviews
Avoid time-consuming plugins
Consider purchasing plugins from authoritative websites
Estimate the budgeting for recurring plugin usage and more
Best WooCommerce Plugins for Products Featuring
According to the research study of predictive Ecommerce analysis from AMCIS shows that if the users stay longer than 50 seconds on a product page then there's a higher chance for occurring purchases. Thus, creating an explicit product catalog is mandatory to keep your customer engaged.
Extra Product Options (Custom Addons) for WooCommerce
With the Extra Product Options plugin, you can easily add custom product options to your WooCommerce store. This includes text fields, dropdowns, checkboxes, radio buttons, date pickers, and more.
You can create conditional logic to display certain product options based on the product selected or the customer's previous selections. This helps create a more personalized shopping experience for customers.
The plugin allows you to set pricing rules for each custom product option. You can choose to add a flat fee or a percentage-based fee to the product price when a particular option is selected. You can use the plugin to customize product images based on the customer's selections.
For example, if the customer selects a particular color, the product image can change to show what the product looks like in that color.
Benefits for you
Add 16+ custom product options
Create conditional logic
Set pricing rules
Set stock quantities
Customizable product options
Easy section positioning
Drag & drop form builder
Pricing per year
Single site: $49.00
Up to 3 sites: $79.00
Up to 10 sites: $129.00
WooCommerce Best Sellers
If you are displaying an unsorted product catalog on your site, then it's difficult for customers to place an order. For those circumstances, WooCommerce Best Sellers plugin is a great tool to highlight your best products for customers.
The plugin allows you to rank the products based on the highest sales per item. You can create the best product recommendation slider easily to showcase products for a specific duration.
The best-seller page can be built based on categories to feature top-selling products for your customers. The plugin supports simple and variable products of the WooCommerce store. It offers a splendid experience for customers.
Benefits for you
Custom best-seller labels
Feature multiple products recommend sliders
Set product count limits
Exclusive badge for specific products
Personalize slider appearance
Pricing per year
Single site: $49.00
Up to 5 sites: $99.00
Up to 25 sites: $199.00
ProductX – The #1 WooCommerce Blocks Plugin

ProductX is an all-in-one WooCommerce plugin that offers a comprehensive solution for enhancing the design and functionality of your WooCommerce website. Whether you prefer to use pre-made templates or design your own layouts, ProductX offers the flexibility and versatility to meet your specific needs. Access a wide range of product blocks and features to create visually appealing and engaging WooCommerce store pages. 
ProductX simplifies the process of customizing your product layout, allowing you to choose from options like grids, lists, and sliders. Additionally, ProductX provides useful features such as quick view, product comparison, wishlist, and more.
Upgrade to the premium version for access to even more advanced features. Enhance the appearance and credibility of your WooCommerce store with ProductX.
Benefits for you
Powerful WooCommerce builder with a user-friendly interface.
Wide range of starter packs and ready-made block designs.
Advanced query builder for efficient product sorting and display.
Helpful addons to enhance functionality and user experience.
Extensive customization options to personalize your store and make it unique and conversion-focused.
Pricing – Lifetime
Single site: $49.00
Up to 5 sites: $99.00
Unlimited sites: $189.00
Product Catalog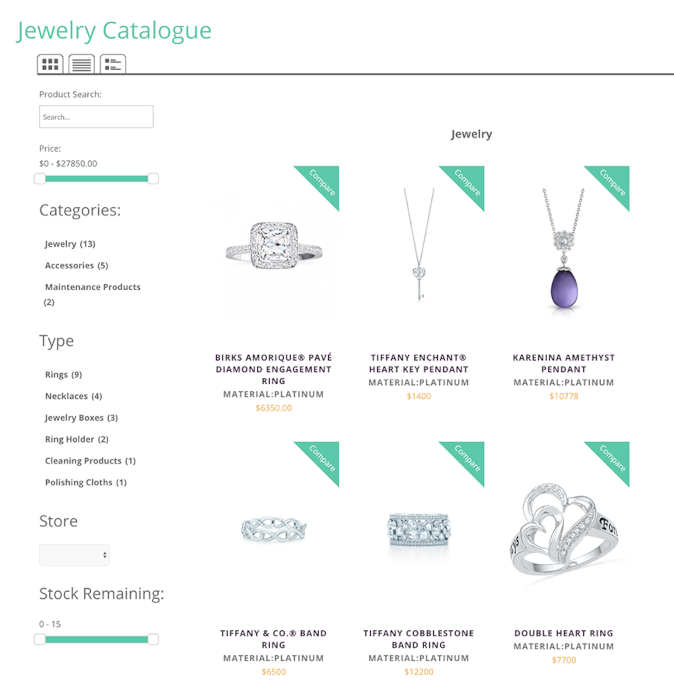 The Product Catalog is an excellent plugin to display products in a stylish modern catalog. It allows you to set up the sorting system including price, name of the product, categories, and sub-categories.
Filtering options will let the customers find out the actual product they are looking for. The plugin comes with a widget to exhibit a few options like a product search field, showing recent products, and a random product list.
You can also use custom shortcodes to show a list of product features, and price sliders, execute the different sales modes, and so on. This could be the perfect solution for online product-selling stores.
Benefits for you
Load three different catalogs at a time
Advanced product filtering & sorting system
Easy toggle sales price
A widget to add a product search field
Support thumbnail products featuring
Pricing – Lifetime
Single site: $57.00
Up to 5 sites: $147.00
Up to 25 sites: $247.00
WooCommerce Product Slider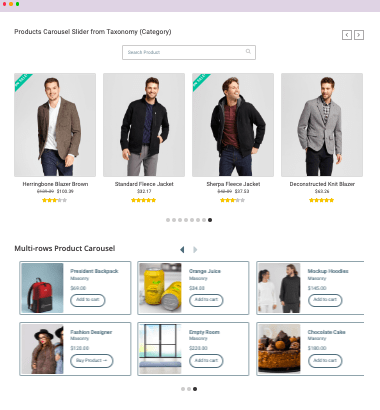 WooCommerce Product Slider is the best tool to generate a carousel slider for products in the WooCommerce store. Using shortcodes, create multiple sliders & display them anywhere on the shop page. Custom layout builders are available to design your product slider as much as you want.
You can set the carousel slider using autoplay, rewind & loop, RTL, lazy loads, and more. When the customers hover over the product image, the description of the product will be shown in different ways like zoom in/out, flip types, spin right or left, and so on.
This WooCommerce product slider plugin suits the store that wants to feature minimalist product catalogs.
Benefits for you
Generate multifunctional sliders at once
Easier to highlight upcoming products
Advanced product layout elements
Custom ribbons for sliders are available
Add recently viewed or related products
Pricing per year
Single site: $39.00
Up to 5 sites: $99.00
Unlimited sites: $199.00
Best Plugins for Upselling/Cross-Selling in WooCommerce
Upsell & cross-sell methods are amazing ways to break the barriers between single-time buyers and online product sellers. It will increase the average order value of the WooCommerce store.
Here, you will find some of the best WooComerce upsell and cross plugins to boost your online sales
Frequently Bought Together for WooCommerce
The plugin allows you to add a perfect product bundle combo for upselling or cross-selling in the WooCommerce store. Discounts can be created for specific product bundles like percentage and fixed cart discounts.
Product recommendations can be featured using multiple layouts in form of tables, lists, and gallery views. It forms a significant way to grab your buyer's attention.
Frequently bought together for WooCommerce plugin will let you customize the product field as a thumbnail image, product short description, price, and more. Encourage your customer to complete their purchases.
Benefits for you
Showcase frequently bought-together items on the specific product page
An advanced widget for highlighting product recommendations
Provide choices for customers to choose from the product listing
Multiple conditions are there to set up upsell or cross-sell for displaying random products.
Control the visibility of the product counts to the recommendation listing
Pricing per year
Single site: $59.00
Up to 5 sites: $99.00
Up to 25 sites: $199.00
One Click Upsell Funnel for WooCommerce Pro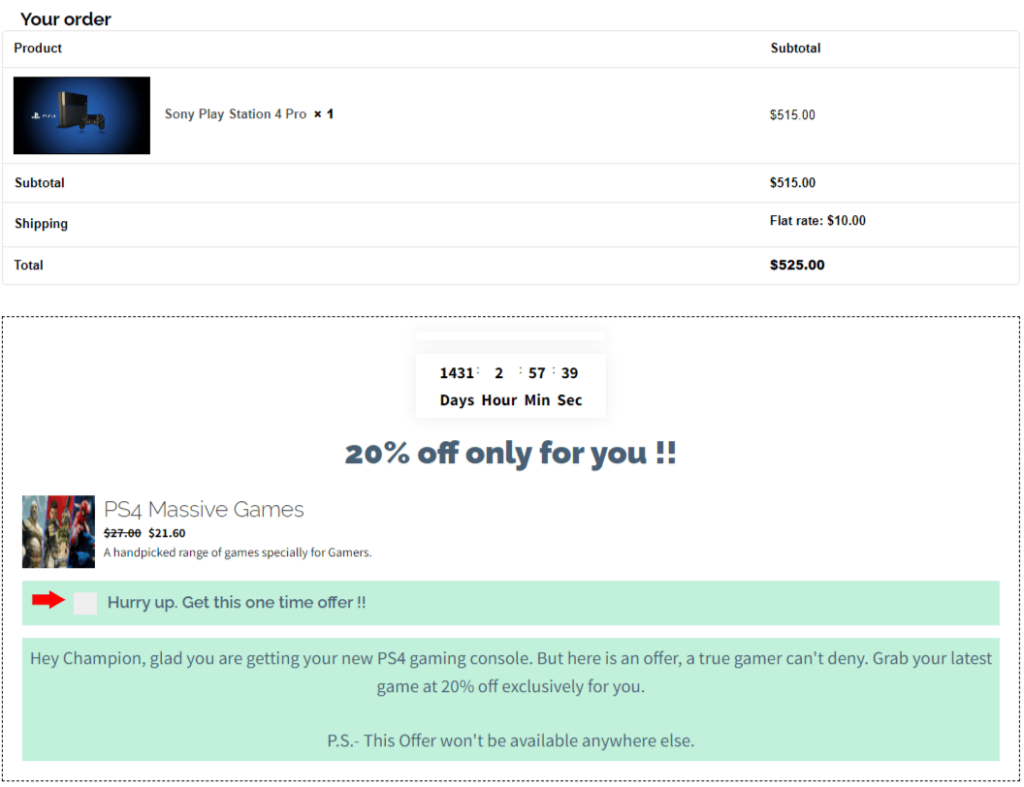 One Click Upsell Funnel For WooCommerce Pro is a smart plugin to feature upselling on the checkout page. It allows you to target potential customers at the time of purchase. Since they are in the happy zone to complete the shopping if good offers show up that will encourage them to buy even more.
The plugin will make you create special offers, category-based discounts, validity coupons, and product-specific, and single-click discount banners on the checkout page. You can also track the customer behavior or sales of the online store. That helps you to plan a better strategy for the upcoming discount campaigns.
Benefits for you
Design responsive offers for product pages
Personalize your offer page in sandbox mode
Supports simple, variable & subscription products
Create permalinks to view discounts in detail
Set up user role-based bumper offers for customers
Pricing per year
Single site: $69.00
Up to 5 sites: $199.00
Up to 10 sites: $439.00
WISDM Custom Product Bundles for WooCommerce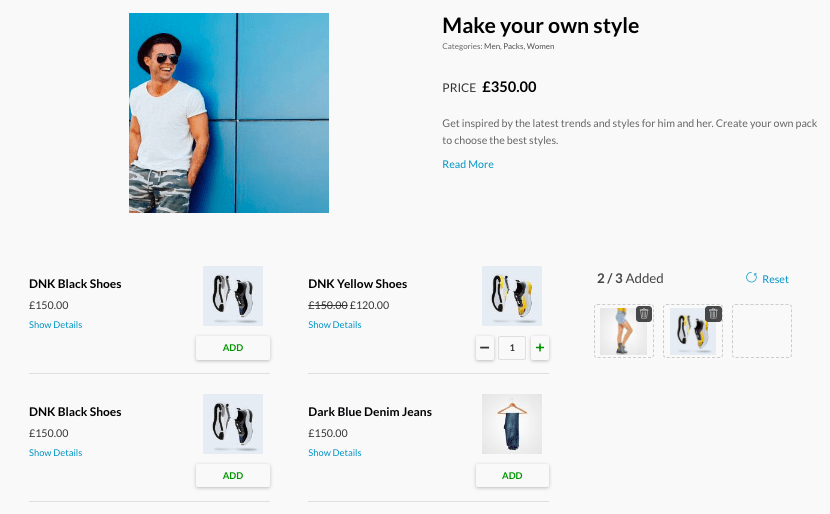 This plugin creates compelling product bundle discounts in the WooCommerce store. It builds the layout for a modern mix-and-match product bundle. Customers can add a special delivery note for personalized gifts.
The plugin can help you group the products based on packages, shopping deals, dynamic pricing, box packaging, and more. The plugin delivers a clear view for customers to add bundle products to their carts.
It acts as a smart solution to place cross-product bundles for your online store. It features captivating images and short descriptions to make customers understand clearly what they are purchasing.
Benefits for you
Easy-to-use product kit builder for store admin and customers
Numerous modern layouts are available to pick for your store
Add clear add-ons to feature the product image & description
Create a bundle for product categories, specific products, or all product pages at once
Design a custom box layout that matches your brand identity
Pricing per year
Single site: $80.00
Up to 5 sites: $120.00
Up to 10 sites: $160.00
Best WooCommerce Plugins for Product Promotions
A typical store admin would do the setup of the store, add the products, and feature all products using categorization. Is that all for an online store? No, reaching out to potential customers for driving sales.
For that, a WooCommerce promotion plugin is important to apply discounts, email promotions, push notifications, flash sales, discount banners, and more.
Here you will find the best WooCommerce promotion plugins to increase store revenue and loyal customers.
Smart Coupon for WooCommerce
Smart Coupon for WooCommerce is a top-notch discount generator plugin. It allows you to create numerous offers in one place like BOGO, giveaways, gift cards, store credits, Fear Of Missing Out sales banners, flash sales, conditional discounts, bulk coupon generators, free shipping, and more.
The plugin will let you create discount campaigns based on customers' actions. For instance, purchasing first order, sign-up, and nth order purchases. Advanced discounts can be set using product bundles, categories, user roles based, quantity-based, cart total based, and so on.
Coupon styling is available based on voucher status as active, in use, or expired. You can also determine where to show coupons on the product page, cart page, or more. Complete package for coupon creation to drive maximal sales & retain customers at ease.
Benefits for you
Design captivating gift cards for customers
Auto-apply coupons when certain conditions are met
Customizable coupon template to feature discounts effectively
Create a countdown timer discount for seasonal sales
Cart abandonment coupons to increase purchase rate
Pricing per year
Single site: $69.00
Up to 5 sites: $99.00
Up to 25 sites: $199.00
PushEngage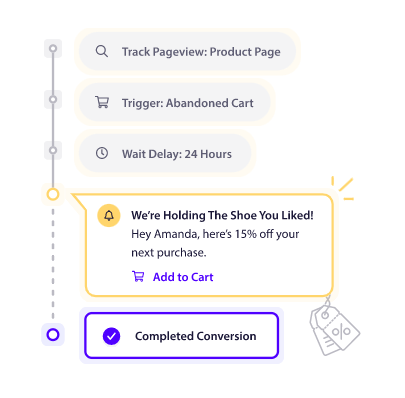 The PushEngage is a powerful plugin for sending timely push notifications to customers. It allows you to make push notification opt-ins in various styles as safari box, floating bar, bell icon bar, and more.
The plugin will let the store owner keep the customers engaged with notifications like product announcements, cart abandonment, new blog alerts, and so on. It triggers notifications based on numerous conditions to convert visitors into potential customers.
One of the best things is that you can create an automatic drip campaign to send out a series of notifications. That will help the store to convert typical subscribers into payable loyal customers.
Benefits for you
Track visitor behavior to build a notification campaign
Build your custom push notification styling
Notify customers when their carts are abandoned
Segment your subscribers based on demographics
Perform an A/B test to find the best solution
Pricing per year
Single site: $14.00
2 sites: $45.00
3 sites: $75.00
Advanced Coupons
The WooCommerce Advanced Coupon plugin is a great tool to set product promos & discounts in the online store. You can create numerous coupon features like free products, Buy One Get One, conditional coupons, validity discounts, auto-apply discounts, and more.
The plugin also provides an exclusive store credit feature for customers that will generate coupons or gift cards in replace of non-refundable products. You can increase your loyal customers using the best loyalty program from this coupon plugin.
Benefits for you
Offers conditional BOGO deals
Incentivize customers via loyalty programs
Create discounts based on cart conditions
Compose time-schedule coupons
URL coupons for email campaigns & social media
Pricing per year
Single site: $59.50
Up to 3 sites: $99.50
Unlimited sites: $149.50
Best Secure Payment Plugins for WooCommerce
Most shoppers complete product purchases with an on-site payment process. This will be a crucial segment since there's a possibility of customers might leave their carts behind due to the insufficient payment portal. Buyer needs an authoritative payment portal to earn trustability.
Here, you will find some of the top securable payment plugins to upgrade your WooCommerce store for customers.
WooCommerce Payment
WooCommerce Payments, developed by WooCommerce experts offers a complete integrated payment solution for the online store. Using the plugin your store will come with default payment as major credit or debit card, local payment with no set-up cost, or subscription fees.
But you need to check with the available country checklist. It doesn't offer in a certain location. The plugin allows the customers to pay directly from inside the store instead of redirecting to a third-party plugin.
Customers can choose their preferred currency and do pay up at the checkout page. They can save the card details to apply the pay later option for a faster checkout process. It's a free plugin.
Benefits for you
An instant deposit feature is available
Filter the transaction using price type, date, amount, and more
Simplify workflow to manage the payment process
Set up a custom deposit schedule for store owners
Manage subscription bills smoothly
Stripe Payment Plugin for WooCommerce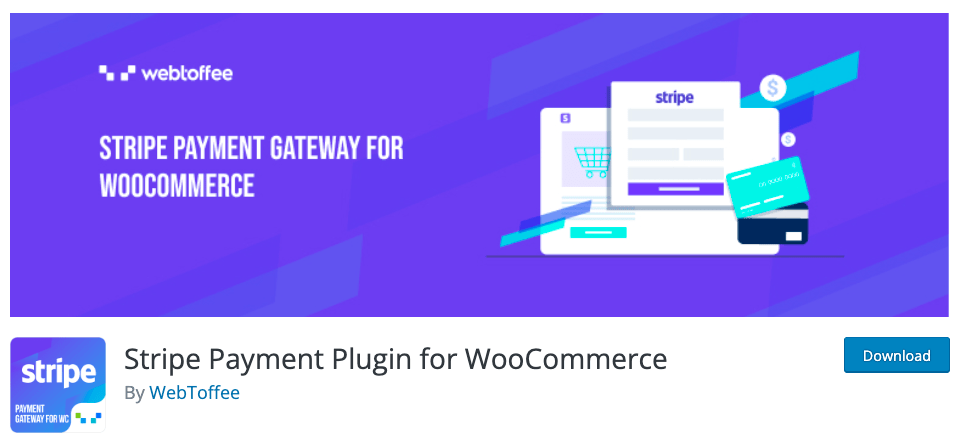 The Stripe Payment Plugin for WooCommerce is a sophisticated plugin to create a secure payment portal for the online store. An optimized pre-built checkout page for a better customer experience via less load time, auto-complete address, real-time card validations, responsive checkout, and more.
It accepts the payment of debit/credit cards like Visa, Mastercard, American Express, JCB, Discovers, and Diner Club. It's a 3D secure extension for the WooCommerce store. It supports Google pay, Apple pay, or saved cards for payment processing.
The payment plugin is available in 47 countries. Customers can pay using online payment platforms like Alipay. This third-party plugin will let the users complete the transaction to import/export products from china effortlessly. Store admin can also send out emails to buyers once the payment is done.
Benefits for you
Accept payment via numerous portals like SEPA, WeChat Pay, Klarna, and more
It supports a partial or full refund process
Separate stripe checkout allows a safer payment experience
For user-initiated payment SCA-READY is available
You can activate the pay-later option for customers
Pricing per year
Single site: $59.00
Up to 5 sites: $89.00
Up to 25 sites: $189.00
Mollie Payments for WooCommerce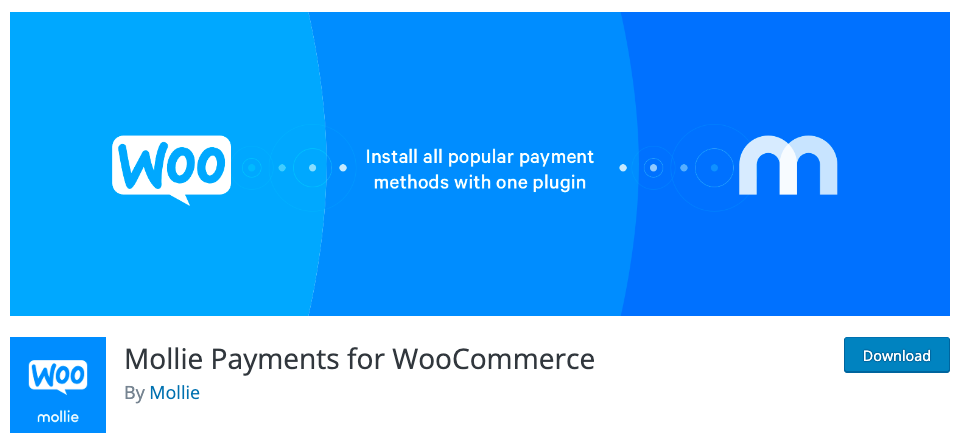 The Mollie Payment for WooCommerce allows you to set up a quick integration with all payment methods. A simple drag-and-drop feature to add any sort of payment option to your WooCommerce store. Creates a securable payment portal for customers.
Support the payment method of credit/debit cards like Visa, V Pay, MasterCard, Maestro, and so on. The plugin allows you to edit the order, description, and title of the payment method on the checkout page.
Benefits for you
Best plugin to support recurring payments
Display transparent prices without any hidden charges
A separate dashboard to track the customer's payments
Compatible WPML for WooCommerce store
Attain payment deposit as daily, monthly, or weekly as preferred
Best WooCommerce Social Media Product Feed Plugins
Internet penetration increases the user presence on social media platform day by day. Thus, using social media product feeds is the smartest way to integrate online store products directly fed into various networks like Facebook, Instagram, Pinterest, Google shopping, and more.
Below you will find the top product feed plugins for the WooCommerce store.
RexTheme's Product Feed Manager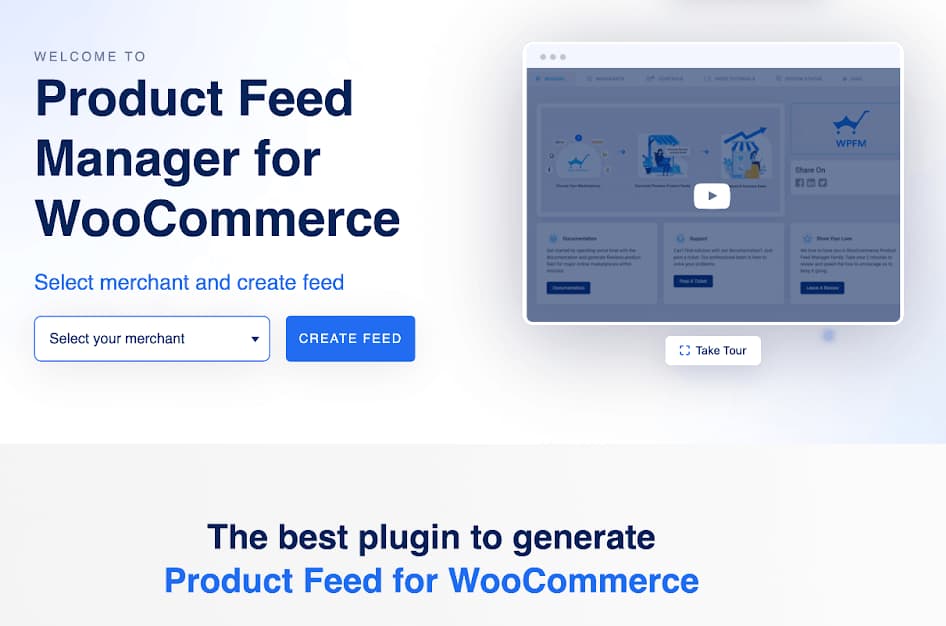 The plugin allows you to make the WooCommerce product feed readily. A single click to embed product feed from an online store to any marketplace. A pre-defined template is available for various merchants like Facebook Catalogue Feed, Google Shopping Feed, Instagram, Bing, idealo, and more.
Simple process for generating product feeds. Advanced features to optimize product feeds as auto-sync, category mapping, product filters, custom fields, and more can be applied. You can also follow the product feed status using UTM tracking codes.
Benefits for you
Set up auto feed update schedule for daily, weekly, monthly, or custom hours
170+ pre-built templates for numerous merchants are available
Include any shipping values of class or base prices
Custom batch or taxonomy can be added
Include/exclude parent products, variable products, and hidden or out-of-stock products
Product Feed PRO for WooCommerce
The plugin allows you to create product feeds for all marketing channels. It will let you create unlimited product feeds for all kinds of webshops. Build your conditions to display profitable products on the online marketplace.
An exclusive feature to optimize structured data for variable product prices in a certain format. In that way, google approves the product feed submission without any hassle. You can also add custom static and dynamic values to the feeds.
Benefits for you
Track the marketing channel using UTM codes
Set shipping zone to provide an actual shipping cost for customers
Auto-sync feeds for daily, weekly, monthly, or more
Support multilingual & WPML
100+ product feed templates are available for numerous marketplaces
WebToffee WooCommerce Product Feed & Sync Manager
The Product Feed WooCommerce Plugin provides a compact way to connect your online store to different merchants like Facebook, Google Shopping & Instagram. It allows you to create null error-free product feeds & integrate them into popular marketplaces.
Advanced features of this feed plugin will let you group the products & sync batch-wise depending on the needs of the online merchants. Remove unwanted products easily using the smart filter options.
Benefits for you
Design a Google shop page that matches your brand identity
Run audience-targeted based ad campaigns to reach potential buyers
Connect the online store feed to the marketplace in less than 2 minutes
Categorize the feeds and save the mapping for future applications
Easy optimization to view failed products sync & add effective feeds at ease
Bonus tips
Checkout Page Customization
Customizing the checkout page in WooCommerce is an important aspect of creating a seamless and professional online shopping experience for your customers. By customizing the checkout page, you can tailor the fields and information required to complete a purchase, add custom messages or branding, and create a checkout flow that best suits your business needs.
Customize the checkout page to ensure a smooth and efficient checkout process for your customers. By taking the time to customize your checkout page, you can enhance the user experience, reduce cart abandonment, and ultimately increase conversions and revenue for your business.
Checkout Field Editor & Manager for WooCommerce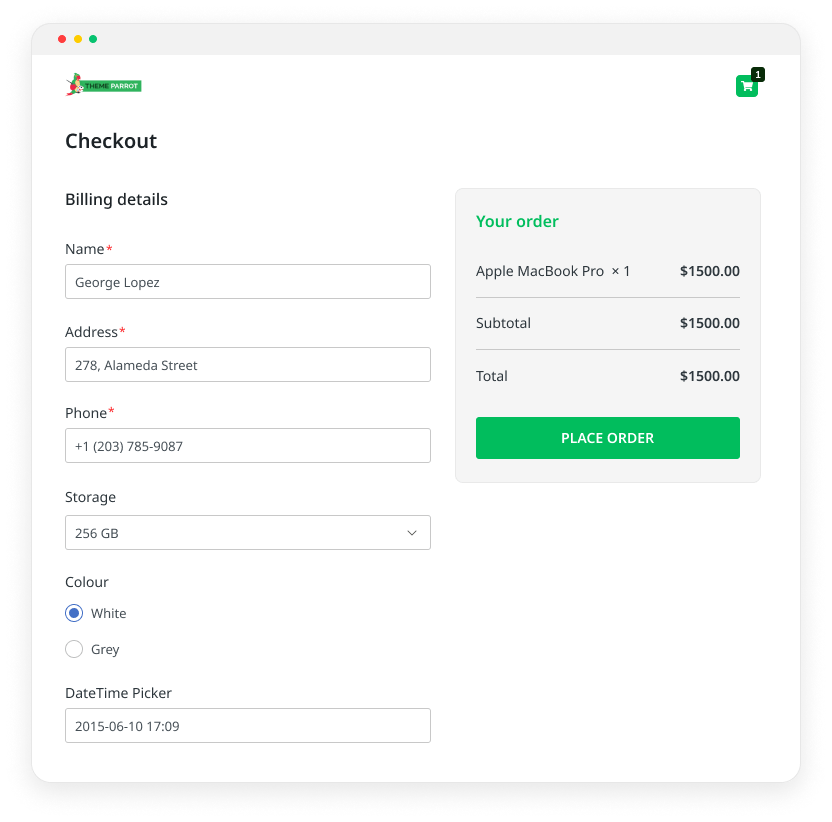 With the Checkout Field Editor and Manager plugin, you can customize the checkout process to fit the needs of your business. You can remove unnecessary fields, add custom fields, and rearrange the order of fields to make the checkout process as simple and streamlined as possible.
You can use the plugin to make fields mandatory or optional, depending on the importance of the information you need to collect. Also, add custom validation rules to ensure that the information entered by customers is accurate and complete.
The plugin also allows you to display fields conditionally based on certain criteria, such as the products in the cart or the shipping method selected. This can help simplify the checkout process even further and make it more personalized for customers.
Benefits for you
Simplify the checkout process
Collect additional information
Make fields mandatory or optional
Add custom validation rules
Customize field labels and placeholders
Display fields conditionally
Import/export field settings
Pricing per year
Single site: $49.00
Up to 3 sites: $79.00
Up to 10 sites: $129.00
Store Optimization
For the growth of the online store, you need to add trendy features to the store. For instance, geotargeting pop-ups, spin-the-wheel gamification, 3D Ecommerce product features, AI assistance, and more.
Adding sufficient features isn't enough to run a successful Ecommerce store. You should optimize your online store to increase visibility and reach an extensive global audience.
Optimization includes all sorts of SEO activities and provides quality product results for the users. One of the popular plugins is "All in One SEO."
All-in-One SEO Plugin
It's a great WordPress SEO plugin that comes with a complete package for handling store optimization. Features are built based on algorithms, especially for the prevalent Google or other search engines.
Using one tool you can set up a complete SEO drive as
– XML sitemaps
– SEO meta titles & descriptions
– SEO keywords
– Open Graph optimization
– Social media integration
– Search engine console
– Local SEO
– Schema markup and more
With the help of the plugin, you can save time & optimize your online store in a few minutes.
Conclusion
Using the WooCommerce extension, it may be easier to set up the online store. But to increase your sales growth, you should have clear strategies and adaptive add-ons to execute the campaign. From this article, you can choose a suitable plugin to skyrocket your store sales to the next level.