Are you looking for suitable plugins to build up your Ecommerce store site based on your niches?
Then, you're in the right place!
WordPress is the most powerful and feature-packed website builder for Ecommerce websites. With that, you can do anything you need to improve the sales and conversion rates without coding knowledge.
Plugins are gifted to us by the growing popularity of WordPress. The only problem is that more than 50,000 plugins are in the directory. We've to select which one is suitable for our online store.
We narrowed down your choices through several comparisons and finally picked up these 8 WordPress plugins. They are a must and enough to build our Ecommerce store sites and help to enhance our site's user experience.
It suits different platforms like
Grocery store website
Meat store website
Cloth-related websites (Boutiques)
Food-related websites (Restaurants)
Hospital websites (Medicals, Dentals, HealthCare, Nursing)
Jewellery, Leather, and Handcrafts websites
They still suit many other Ecommerce sites.
Okay, let's take a look at the must-have WordPress plugins that help you to build your Ecommerce store websites.
1. WooCommerce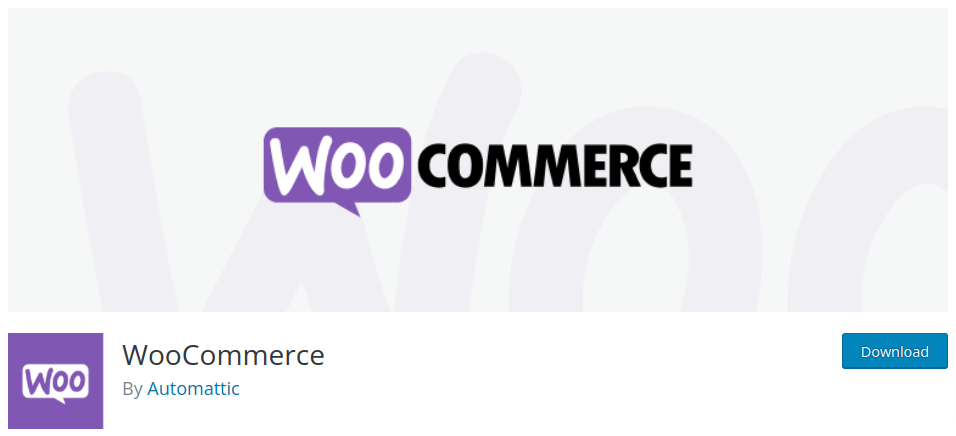 WooCommerce is the king of Ecommerce plugins in WordPress. The World's most popular platform WordPress.com has designed this plugin to help users explore their store sites. Almost 28.24% of online stores are based on WooCommerce. In this, size doesn't matter. So, you can create your store in any size.
Fully compatible with all WordPress functions. The customization is unbelievable, and you can change the appearance with thousands of themes.
A huge benefit is that they are all free of cost. It has configurable shipping options. You don't need any other plugin to do your shipping process.
Benefits for you
Free of cost and built with WordPress
Both digital and physical goods are supported
Allowed to sell external (affiliate) products
Blog integration helps to rank your site
Easily manage your inventory or access it with a manager
Ass several payment options using extensions
Easy customization and higher functionality
2. Easy Digital Downloads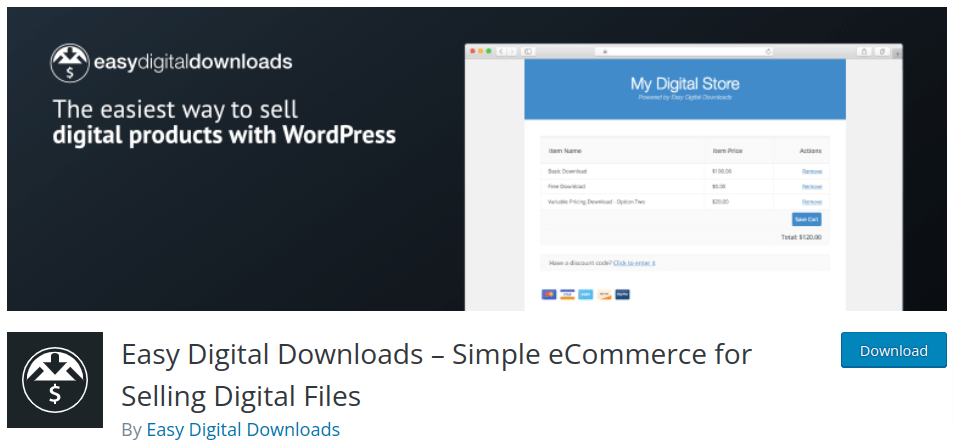 Are you have any issues selling digital products in your online store?
No worries.
The easy digital downloads plugin is here to help you with it. There are no limitations for downloads while distributing your products.
Its elegantly designed cart page allows customers to purchase multiple items simultaneously (without interruptions).
You can track the IP address, date, and time of the downloads purchased on your site. It has a built-in data reporting system, so you can see the entire data like stats, and create custom reports for your niches.
Benefits for you
Flexible payment options
In-depth Ecommerce reports
Safe file encryption
Adaptable to any theme
Neat checkout and shopping cart
Easy to find sales and product information
Customers' secure account page
Pricing per year
Personal Pass: $99.50
Extended Pass: $199.50
Professional Pass: $299.50
All-Access Pass: $499.50
You'll get enough features in the free version itself. If you want to explore more, then go with the pro.
3. Extra Product Options (Custom Addons) for WooCommerce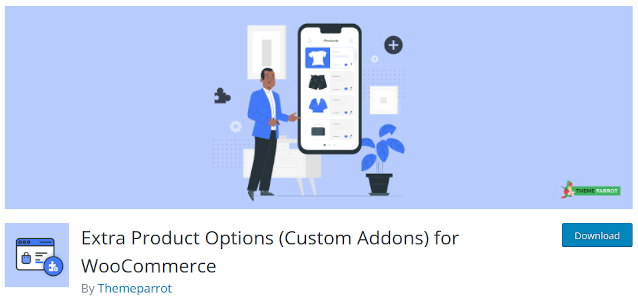 Customize the product pages of your WooCommerce store easily and based on your niches with the Extra Product Options and Custom Addons for the WooCommerce plugin.
You can add 16+ custom product fields to explore your products. Add, edit, delete, duplicate, and modify the fields to acquire more details from your customers.
Let your customers personalize their purchases.
Custom Fields
Text
Email
Telephone
Color Picker
Date Picker
Time Picker
DateTime Picker
Number
TextArea
Select
Checkbox
Radio Buttons
Hidden Input
Paragraph
Header
File Upload
Benefits for you
Allows you to edit custom product fields (options)
Show / Hide columns with the dynamic fields
Enable / Disable forms based on your needs
Provides easy section positioning
Hidden inputs help to hide some particular data from your customers
A simple drag-and-drop form builder to create the form easily
User-friendly and improved UI
Pricing per year
Single site: $49.00
3 sites: $79.00
10 sites: $129.00
You'll get a year of support and updates free with a license.
The features in the free version are enough for some users. If you want to explore more, then go with the pro.
4. Weight Based Pricing for WooCommerce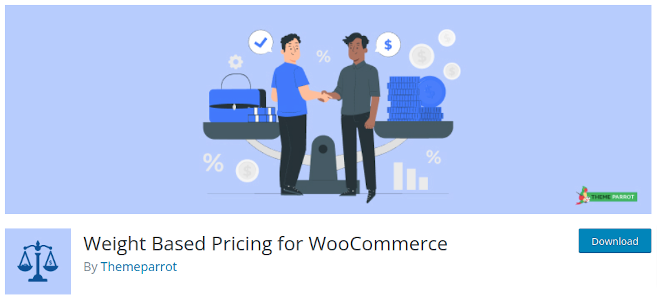 Allow your customers to select the weight based on their choices with the WooCommerce Weight Based Pricing plugin.
It helps to define your inventory in weight and set prices based on weight ranges. It applies to all weight-based products.
The plugin provides many custom fields like minimum and maximum weight limit, weight interval, wastage percentage, and custom weight rules with multi-price ranges that help you set dynamic prices.
You can provide variable prices for a single product based on the weight range. You can create and modify the custom label based on your niches.
Benefits for you
Free of cost and multiple weight ranges
Easily customizable options and simple pricing rules work seamlessly
Enable / Disable weight-based pricing globally
Configure weight rules according to different weight ranges
Calculates actual weight based on the wastage percentage
Set intervals/steps for the customers to choose
Create and set the position of the custom label
5. Yoast SEO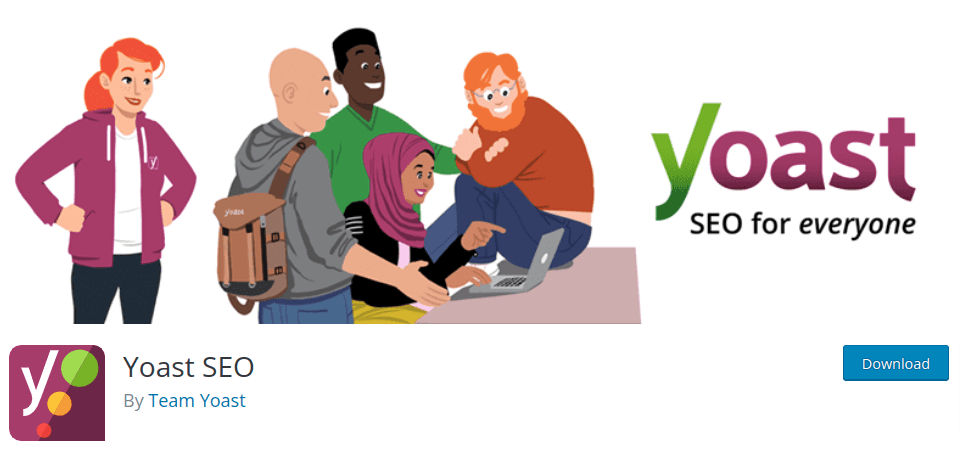 All of us must have competition on our respective platforms. We've to beat them to sell our products more. For that, Yoast SEO is here. It ensures that our site is SEO optimized and pushes our pages to the top of search engine result pages.
On-page SEO and readability scores are displayed below the content so that we can correct them. Yoast is the most powerful SEO tool used by many users Worldwide.
It allows us to put the focus keyphrase, meta tags, and some others to high our site's visibility on search engines. It helps to increase our site's health and reduces the spamming score.
Benefits for you
Fully automated technical SEO improvements
SEO and readability analysis
Finest Schema.org integration
Serves faster loading time for our site
XML sitemaps are advanced and easily understood by search engines
Supports working flawlessly in different languages
With its preview feature, we can see how our pages look in the SERPs
Pricing per year
Premium Plugin: $99.00
You'll get enough features in the free version itself. If you want to explore more, then go with the pro.
6. Checkout Field Editor and Manager for WooCommerce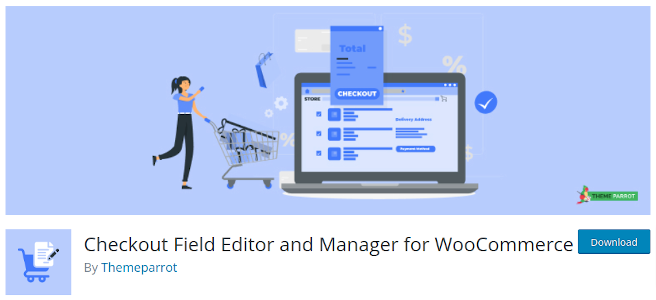 Customize your WooCommerce checkout pages in no time based on your specialties.
The plugin provides 17+ different custom checkout fields to capture some additional information from the customers during their checkout. Create and place several custom sections.
Validates the fields to ensure your data quality. You can edit the input field label, class, type, and placeholder of the checkout fields. Also, make a particular field required based on its need.
Duplicate the fields to minimize your work. Show or hide, and reorder the checkout fields. Get details like delivery instructions, order delivery dates, customer identification numbers, etc.
Custom Fields
Text
Email
Telephone
State
Country
Color Picker
Date Picker
Time Picker
DateTime Picker
Number
TextArea
Select
Checkbox
Radio Buttons
Paragraph
Header
File Upload
Benefits for you
Additional CSS classes provided
Make fields required or optional based on your needs
Change the order with drag and drop builder
Add, edit, delete, and modify the custom as well as default checkout fields
Serves easily customizable options to work flawlessly
Provides a dynamic and user-friendly interface
The automatic field validation feature is available
Pricing per year
Single site: $49.00
3 sites: $79.00
10 sites: $129.00
You'll get a year of support and updates free with a license.
The features in the free version are enough for some users. If you want to experience all the features, get pro.
7. ELEX WooCommerce Abandoned Cart Recovery with Dynamic Coupons

The ELEX WooCommerce Abandoned Cart Recovery with Dynamic Coupons plugin is an essential tool for any WooCommerce store owner aiming to recover lost sales due to abandoned carts. It has a range of features that help you engage with customers who have left items in their cart without making a purchase.
The plugin accurately tracks abandoned carts on your store, providing you with valuable data, you can set up automated emails to be sent to customers who have abandoned their carts, and you can generate dynamic coupons, amongst a plethora of other features. Its extensive features and benefits make it a worthwhile investment for any WooCommerce store owner.
Benefits for you
The plugin helps you recover lost sales by reminding customers of their abandoned carts and incentivizing them to complete their purchases with dynamic coupons.
Automated emails allow you to engage with your customers on a more personal level, potentially improving overall customer satisfaction and loyalty to your store.
The reporting features of the plugin provide you with valuable data about customer behavior and the effectiveness of your cart recovery strategies, allowing you to make data-driven decisions to improve your store's performance.
It automates many aspects of the cart recovery process, freeing up your time to focus on other aspects of running your store.
By recovering lost sales and encouraging customers to complete their purchases, the plugin can help boost your store's revenue.
Pricing Per Year
Single Site: $79
5 Sites: $119
25 Sites: $199
8. Email Customizer for WooCommerce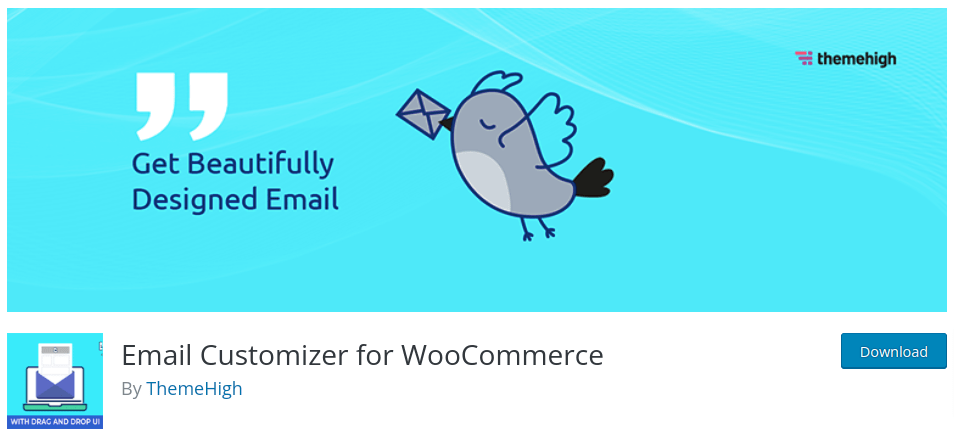 Create customized emails for your customers to have a long-lasting relationship with them to do more deals. The email customizer for the WooCommerce plugin has a live preview feature that helps to design our emails better and based on our niches.
It provides a visual template editor in its default. So, we can build stunning emails with images, videos, GIFs, etc. Customize the look of our existing ones with this plugin to get more reach.
Also, you can create custom templates for your business types. Several elements are available there to design your emails.
Benefits for you
Include multimedia in your emails
Add WooCommerce hooks for simple conversion
Simple drag-and-drop form builder
A real-time preview is available
Import and export emails at a click
Multiple columns provided to do different tasks
Design emails in multiple languages (WPML compatibility)
Pricing per year
Single site: $39.00
5 sites: $69.00
25 sites: $129.00
You'll get enough features in the free version itself. If you want to explore more, then go with the pro.
9. Jetpack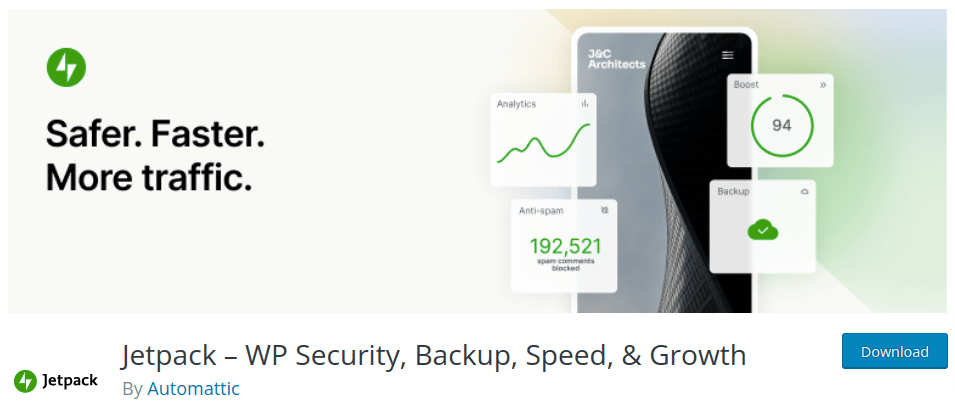 Jetpack provides high-tech security for our site. It also serves as a backup plugin to save our site data. The plugin speeds up our site performance. It's an all-in-one solution.
Any changes you make to your website are kept as a real-time backup. All you want to do is just click. It automatically blocks spam on your blog posts.
The activity log section tells you who harmed your site. Gives alarms through emails to stop the huge losses. Provides some automated marketing tools to get some reach.
Benefits for you
Speed up and grow your site in one place
Serves secure logins and protection from some major attacks
Improves the performance by boosting up
Significant spam protection
Provides free CDN to deliver faster than ever
Speed enhancements help to rank higher on search engines
Both Android and iOS app versions are available so that you can access them anywhere
Pricing per month
(Billed yearly)
Backup: ₹209.00
Security: ₹479.00
Complete: ₹1,599.00
You'll get enough features in the free version itself. If you want to explore more, then go with the pro.
10. YayCurrency – Multi-Currency Switcher
YayCurrency is the perfect WooCommerce Currency Switcher to keep your international customers happy!
It allows you to display a dropdown list of different currencies. You can place them on a single product details page, shop page, header/footer widget, and other locations using the YayCurrency shortcode.
With a single click, the customers can convert prices from your default currency into their local currencies. This means no more guesswork or confusion about how much the products cost in different countries.
The auto-updated exchange rates reflect what people are actually spending. And the additional conversion rate helps you reduce cash loss due to value fluctuation.
Benefits for you
Extensive statistics: Filter and view sales performance based on the currency in WooCommerce reports under Analytics > Overview and Analytics > Orders.
160+ currencies: Easily add common currencies and local ones to the list, then drag and drop to reorder them.
Customizable switcher: This currency switcher comes with well-designed elements like the national flag, name, currency symbol, and currency code that can be shown or hidden.
Attractive price tag: Round the product prices to your selected threshold to make it more customer-friendly.
The premium version offers a 30-day refund policy and 1-1 live chat support. So if you're looking for an easy way to display the WooCommerce currency switcher, look no further than YayCurrency!
Pricing per year
Single site: $49.00
3 sites: $99.00
Unlimited sites: $199.00
Lifetime Pricing
Single site: $195.00
3 sites: $395.00
Unlimited sites: $995.00
11. Smart Manager for WooCommerce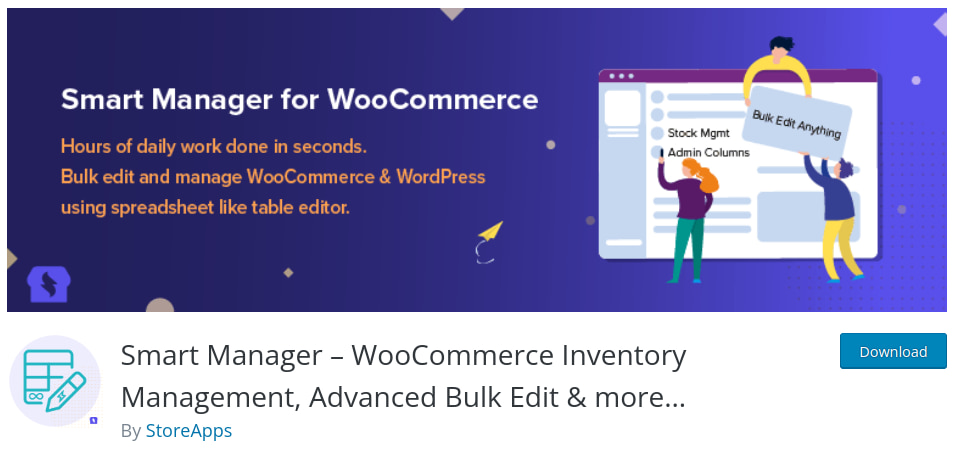 Smart Manager is the most powerful inventory management plugin for WooCommerce from StoreApps. StoreApps is the official WooCommerce extensions developer.
The Smart Manager plugin allows you to manage and edit any WordPress post type (including custom ones). Posts, pages, WooCommerce products, orders, coupons, users, subscriptions, bookings, product add-ons, etc. And manage them from an Excel-like sheet editor.
Boost your store productivity 10x and get massive time savings. 20K+ users rely on Smart Manager to get free from the daily store mundane.
Benefits for you
Bulk edit thousands and lacs of records within minutes
Make edits to records directly using the spreadsheet
Advanced conditions to filter records and get accurate results
Delete records permanently or move them to the trash
Duplicate all or selected records
Export entire data to CSV or based on filters
Set up Custom views, and provide restriction-based access to users for dashboards
Pricing per year
Single site: $149.00
5 sites: $179.00
12. Exclusive Addons for Elementor
Next on the list is an Elementor add-on. The plugin comes with a prolific WooCommerce builder. Exclusive Add-ons let you build e-commerce websites with all the essential elements.
The WooBuilder includes elements like Product Image, Product Title, Product Breadcrumb, Thank You Order details, and more that you can use to design a shop page, single product page, and Thank You page for your online shop.
Besides the WooBuilder, the Exclusive Add-ons come with a bunch of individual elements for WooCommerce that you can use those widgets to design e-commerce sites with Elementor.
Furthermore, the Elementor add-on has more to offer than just WooCommerce elements. It has features that help you build a full-function site of any kind.
Benefits for you
Seamlessly integrates with WooCommerce
Exclusive WooBuilder for Elementor
24+ WooCommerce widgets for Elementor
50+ readymade templates
108+ Elementor widgets
Exclusive WebGL Plugin
24/7 customer support
Pricing per year
Starter Plan: $39.00
Exclusive Plan: $89.00
Business Plan: $159.00
You'll get enough features in the free version itself. If you want to explore more, then go with the pro.
13. Smart Coupons for WooCommerce
Smart coupons provide advanced coupon features and functionalities for a WooCommerce store owner.
The plugin adds more options that help you add coupon rules and restrictions than using WooCommerce default coupon settings. You can also create different kinds of promotional campaigns.
Benefits for you
Create more restrictions for coupons to maximize the ROI
Create different coupon campaigns like seasonal discounts, product giveaways, giving store credits, recovering abandoned carts, gift coupons, and more.
Increase conversion with features like auto-apply coupons, URL coupons, etc.
Easily manage coupons with features like duplicate coupons, import coupons, etc.
Show available coupons for customers on their account page
Pricing per year
Single Site: $69.00
5 sites: $99.00
25 sites: $199.00
You'll get enough features in the free version itself. If you want to explore more, then go with the pro.
14. WooCommerce Shipping Services
WooCommerce Shipping Services is one of the complete shipping plugins which automates the entire shipping tasks by directly integrating with your WooCommerce store. Being a certified plugin by FedEx, UPS, Australia Post, Purolator, USPS, and Canada Post, online sellers can get complete control over the entire shipping process within their WooCommerce dashboard.
This plugin lets WooCommerce store owners display live carrier rates at the checkout, print shipping labels in bulk track orders in real-time, and update the status of the order to customers too. It is an all-in-one shipping solution that takes care of your entire WooCommerce Shipping.
Benefits for you
Supports 50+ shipping carriers to ship WooCommerce orders worldwide and saves both money and effort for online merchants
Display real-time carrier-calculated shipping rates at the checkout
Print 100s of shipping labels with a single click
Enables live tracking for both store owners and customers
Request carriers' pickups, and print manifests
Supports both domestic and international shipping
Have features to offer multiple packing methods like box packing, weight-based packing, quantity-based packing, and stack packing
Enables store owners to set their own shipping rules based on shipping zones, shipping class, product quantity, etc.
Supports WooCommerce multi-vendor shipping with Dokan and WCFM
Pricing per month
Starter: $09.00
Popular: $29.00
Premium: $49.00
Enterprise: $99.00
The WooCommerce shipping services plugin offers a 14-day free trial and the subscriptions start at $9/ month to fulfill 100 shipments. If you want to explore more, then go with the pro.
15. WooCommerce Product Feed Manager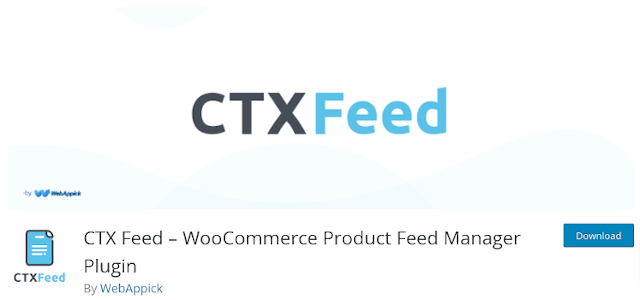 Do you ever struggle with running ad campaigns for your WooCommerce products?
Well, CTX Feed is here to solve that problem. It is the most optimized and error-free product feed generator for WordPress eCommerce stores. Besides Google Shopping, Bing, eBay, and Rakuten, it supports 100+ popular marketing channels in the world.
You can generate an unlimited product feed for free with this WooCommerce product feed manager plugin. It doesn't matter how large your inventory is. CTX Feed can generate feeds with hundreds of thousands of products.
Besides that, CTX Feed also includes the variables and product variations on the feed. Long story short, this plugin will leave nothing behind while generating product feeds for the WooCommerce stores.
Benefits for you
Supports 100+ marketing channels
Feeds will be updated automatically
Supports multi-currency and multilingual feeds
Smart product filtering facility
Advanced attribute mapping functionality
Multi-vendor feed generation support
Add custom fields as attribute values.
Pricing per year
For a year of updates:
Single site: $119.00
5 sites: $199.00
10 sites: $229.00
For lifetime updates:
Single site: $676.00
5 sites: $1,034.00
10 sites: $1,282.00
The free version is enough to generate a WooCommerce product feed.
But, you will need the pro version for the advanced features like adding product meta, taxonomies, custom fields or attributes, multilingual or multi-currency support, etc.
Conclusion
With these plugins, you have maximum control and flexibility on your site. Sell your digital products online. Optimize your store to get a high SEO score and rank top in SERPs. Create and send customized emails to your customers to build long-term relationships.
Set prices for your products based on their weight ranges. Customize and add custom fields on your product and checkout pages. Create a backup and have a secured site.
Cheers!