Do you want to provide a Customized Product page with relevant fields to personalize your customers' purchases?
Then, you've to Optimize your WooCommerce Product pages with a suitable product addons plugin. If you don't know much about that, don't worry. I'm here to guide you!
But before that, you should know about the custom product addons (extra product options).
What are Custom Product Options (Extra Product Addons)?
Custom Product Options are nothing but the extra fields added to our existing WooCommerce Product page to showcase the product features in detail and other options to our site visitors.
With this, our visitors can understand more about the products and acquire what they want exactly. It is designed especially for accuracy.
Make your WooCommerce store more adorable with custom product fields. It also leads to improving our sales conversion rates.
How to Choose the Best Product Addons Plugin?
Product personalization increases the customer-engaging time on our site and leads them to make a purchase. It is nothing but modifying the product options for our customers' desires.
Thus, the sales and conversion rates can be increased rapidly. Also, Customize your WooCommerce Product pages based only on your product niches to get full benefits.
But, there is an issue with that.
So many plugins are there in the WordPress directory to Optimize our WooCommerce Product pages with some rich features. Thus, our team has picked the Best Extra Product Options (Custom Product Addons) Plugins for WooCommerce to ease you.
Users generally call it either Product Add-Ons or Product Options. The plugin helps you add custom product fields to provide more details to serve your customers know everything better.
Below displayed plugins provide good customer support and multiple customization options at affordable prices (Top-rated).
Let's take a look at it.
Best WooCommerce Product Options (Addons)

Customize your WooCommerce product pages based on your niches with 16+ custom product fields. Let your customers personalize their purchases.
Add, edit, delete, duplicate, and modify the custom product options to provide a well-optimized product page for your customers. Create multiple forms (sections) and position them for your flexibility to capture more.
The plugin helps you to set price options and hidden inputs on the product form. With its drag-and-drop form builder, you can easily create custom forms without any coding knowledge.
It is a Freemium plugin. So, you can enjoy the basic features with its free version.
Key Features
Conditional logic feature
Easily customizable options
Different custom price fields
Dynamic fields to ease you
Section positioning
WPML compatibility
User-friendly UI and work seamlessly
Pricing
1 Site – $49.00
3 Sites – $79.00
10 Sites – $129.00
You can get a year of Updates and Support for Free!
Try its Free Version.
YITH provides another well-featured product add-ons and extra options plugin for WooCommerce. Add free or chargeable additional fields based on your store type.
Set an add-on option for particular or entire products. Display similar or frequently buying products on the page to high the user's engagement time on your site and thus gain more.
Some other essential features are there to explore your WooCommerce products. The color swatching feature is there to serve a beautiful experience for your customers.
Key Features
Set pricing for add-ons
Display product variations
Allows customers to attach files, images, etc.
Display conditional logic-based product fields
Different types of product options
Nice UI than alternatives
Pricing
$99.00 per year
You can get a year of Updates and Support for Free!
Try its Free Version.
Now, you can show extra options for your product at different places with this plugin by ThemeHigh. You can set the design and display rules for your products.
Allows changing the position of the extra options before or after the cart. Also, create an add-to-cart button for both simple and variable products.
The plugin facilitates showing the custom options in three locations based on your product's niches. You can give the field a fixed value as well as dynamic pricing.
Key Features
Advanced styling options
Compatible with most common themes
Extra options position can be changeable
Smooth user experience
Able to change the title and subtitle colors
Dynamic pricing is available
Pricing
1 Site – $39.00
3 Sites – $69.00
10 Sites – $129.00
You can get a year of Updates and Support for Free!
Try its Free Version.
Acowebs serves you perfectly optimized custom product add-ons for the WooCommerce plugin. The plugin allows your customers to personalize their purchases.
You can get up to 13 custom product fields on its free version. If you want to unlock more, then go with the Pro. Show or hide the product options based on the selected product variation and value.
Set prices that can be either fixed or a percentage value for the fields with this one.
Key Features
Custom price formula
Conditional logic
Set prices for different fields
Displays product variations
HTML tags are supported
Simple-to-use plugin
Pricing
For a year of updates,
1 Site – $39.00
3 Sites – $79.00
For lifetime updates,
1 Site – $69.00
10 Sites – $149.00
Try its Free Version.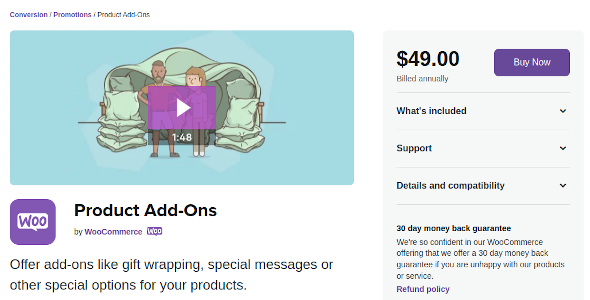 WooCommerce allows its customers to personalize their products with its Product addons. Add some custom fields to your product page and acquire more details from your customers.
You can easily set and change the prices for the product fields based on your need. Apply the settings either globally or for individual products effortlessly.
The plugin helps you to charge fees based on the quantity or percentage. There are multiple options to compute the charges for extra product options.
Key Features
Multiple field types
Several options to calculate fees
Smooth product customization
Subscriptions and bookings are affordable
Image-based product selections
Custom price options
Pricing
$49.00 per year
You can get a year of Updates and Support for Free!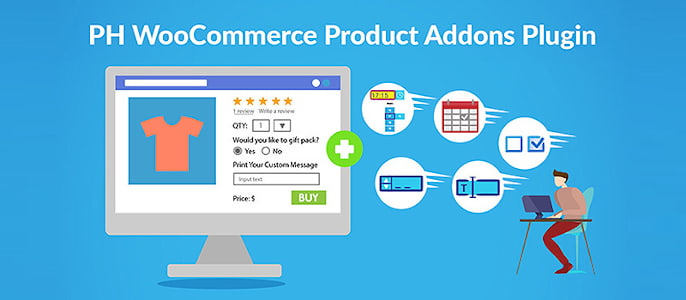 WooCommerce Product Addons allow you to create & sell Customizable Products.
The plugin allows you to provide extra product options for your WooCommerce products using controls like checkboxes, radio buttons, dropdowns, multi-select options, color options, color pickers, date and time pickers, and input fields like text, text area, numbers, telephone number, email, etc.
The control options come with a price and conditional logic attached. So, now there is no limit to how much you can customize your products.
Key Features
Using the WooCommerce Product Addons Plug-In, you can personalize your products.WPML and Polylang support
Flexible pricing for extra product options.Field group positioning
Best suited for clothing stores, gaming accessory stores, toy stores, creative business websites, and more.
You can easily use the advanced and customized feature options with this one.
Pricing
1 Site – $49.00
5 Sites – $79.00
25 Sites – $149.00
You can get a year of Updates and Support for Free!
Wp Desk provides the flexible product fields plugin to customize your WooCommerce product before adding it to the cart. You can easily add some custom product fields to explore your products.
Its built-in editor eases your form creation work. Also, save the field groups as drafts for future purposes. You can mark the extra fields as required or optional based on the need. Position the field groups either below or above the add-to-cart button.
Additionally, save the product configuration in the form of an URL.
Key Features
Provides conditional logic
WPML and Polylang support
Add fixed or percentage prices
Field group positioning
CSS style support
Edit tooltips, labels, and values for product fields
Pricing
1 Site – $59.00
25 Sites – $99.00
You can get a year of Updates and Support for Free!

The WooCommerce Product Import Export Plugin facilitates the easy import and export of WooCommerce product data, product categories, and product tags using a CSV file.
When you are moving products from one store to another or if you want to update the products and related data, importing and exporting is the fastest and easiest way. Let's say you have a store with hundreds or thousands of products. It is not practical to move or update them manually.
Product Import Export for WooCommerce can save you hours' worth of time with its import and export feature. The free version of the plugin supports simple, external, and grouped products to import and export.
Key Features
Export and import data using a CSV file
Export and import products with images
Export and import product reviews with ratings
Export and import based on criteria like stock, status categories, tags, etc.
Pricing
1 Site – $69.00
5 Sites – $99.00
25 Sites – $199.00
You can get a year of Updates and Support for Free!
Advanced product fields by StudioWombat provide different field types to set up additional product options. Its dynamic product pricing options help the customers to explore our WooCommerce products.
You can display simple and variable products based on your products' needs. It eases the customization work with its dynamic features. You can hide or show some fields based on the types of values.
Also, the plugin helps you increase or decrease the final price of your WooCommerce product.
Key Features
Integrated with other plugins
Able to add content fields
Show or hide fields
Modify the product price
Works with WooCommerce tax settings
Quantity based options
Pricing
1 Site (Pro) – $59.00
1 site(Extended) – $79.00
1 site(Bundle) – $119.00
You can get a year of Updates and Support for Free!
Conclusion
In this article, we've seen the brief descriptions and the key features of the best WooCommerce extra product addons (options) plugins.
Now, you can compare them with your business niche and pick the suitable one for your store. Make your store dynamic and provide a better purchasing experience for your customers.
Also, check the best designs for product categories to improve the look of your WooCommerce store.