Weight-Based Pricing for the WooCommerce plugin helps to set the price range in our WooCommerce products. Setup the price range for your product which improves your business as well as increases traffic. Allow your customers to pay in a range of prices. For that, you need the Weight Based Pricing for the WooCommerce plugin.
Download: Weight-Based Pricing for WooCommerce
After installing and activating the plugin, you need to follow the below steps to set the price ranges and also know more about the Weight-Based Pricing for the WooCommerce plugin.
Step 1:
First, go to 'Products' and then to the edit page of your product. Go to the Product data section, where you can see the Weight Based Pricing option. Click the enable button. The below page will open.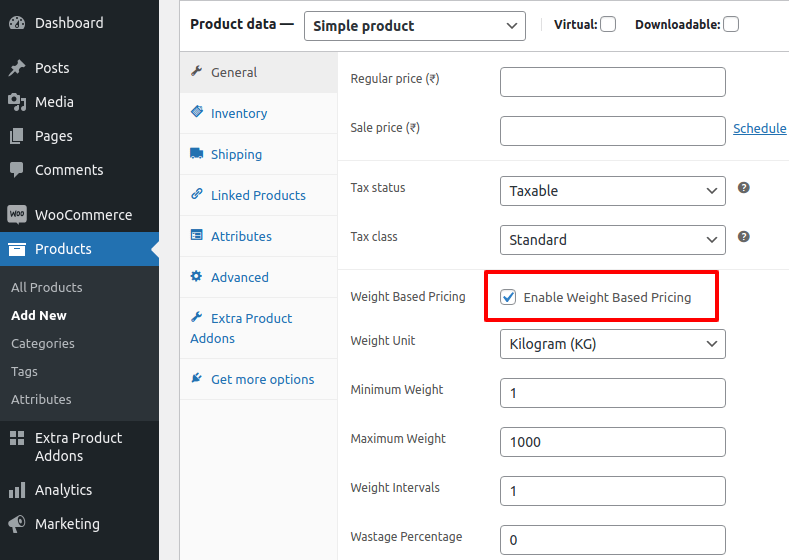 Step 2:
You can set the
Weight unit in Kilogram, grams, or pounds that you want.
Minimum weight limit and also the Maximum weight limit of the product.
Weight intervals specify the increment or decrement weight values of the product.
Wastage unit of the product in percent.
Also, the Pricing rules for your product.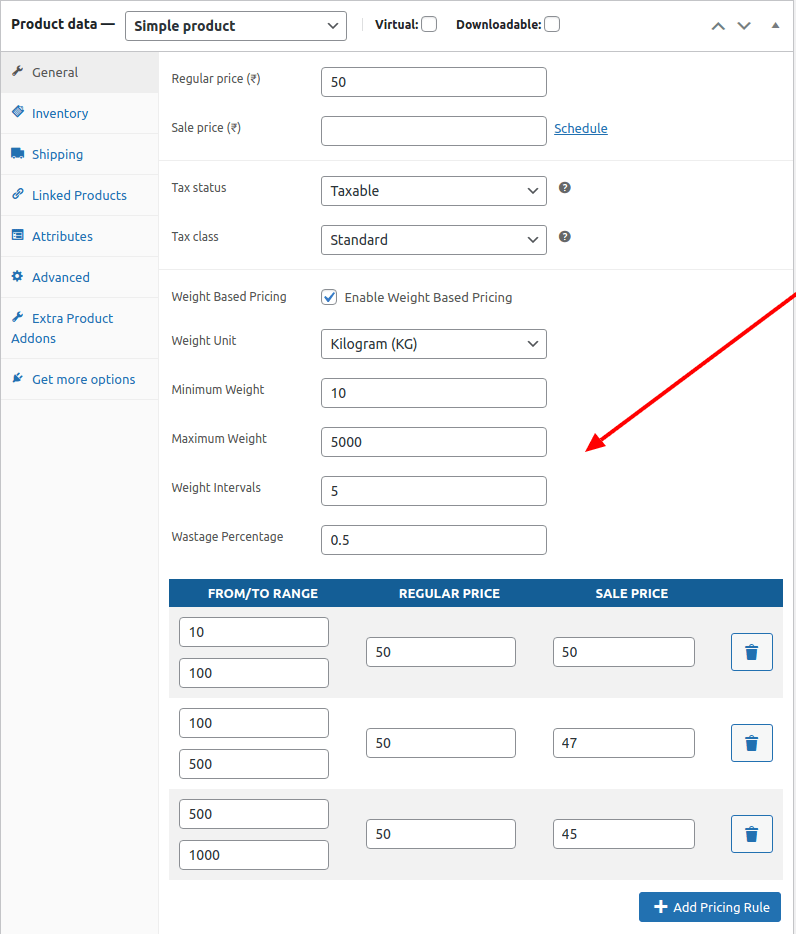 Step 3:
At the Pricing rules portion, we have set three ranges for a single product.
Range(10 – 100 kgs) – the sale price will be 50 per kilogram.
Range(100 – 500 kgs) – the sale price will be 47per kilogram.
Range(500 – 1000 kgs) – the sale price will be 45 per kilogram.
After setting up the Pricing rules, click the 'Update' button on the top-right of that page to save the changes.
You can set multiple pricing rules for a product based on your need.
Step 4:
Now, go and visit your site's product page. The Weight unit that you added will display there. The other options such as Actual weight and the sale price are also present. The minimum value you put displays as the placeholder. The customers wouldn't be able to order below that limit. The price also varies based on the range of the order.
Step 5:
After crossing the specified range on the weight field, you can see the Sale price and the Actual weight are changed respectively.