Weight Based Pricing for WooCommerce helps us to remove the Pricing Rule from a WooCommerce product. Let's assume that I had a rice mill and was doing wholesale business online. I had some big industry deals and my business has grown nowadays compared to before. So I decided to remove the existing Pricing Rule.
In this, We will see how to do this process with the Weight Based Pricing for WooCommerce plugin below.
Download: Weight-Based Pricing for WooCommerce
After installing and activating this plugin, you should follow the below steps to remove the pricing rule from your WooCommerce product.
Step 1:
First, go to Products and then select the product. This leads to the edit page of your product. Go to the Product data section, where you can see the weight Based Pricing option. Click the enable button. The below page will open.
Step 2:
On that page, you can see the Pricing Rule table at the bottom. There you can edit or remove the existing Price Rules. For that, you've to click the Delete icon on the right side of each Pricing Rule.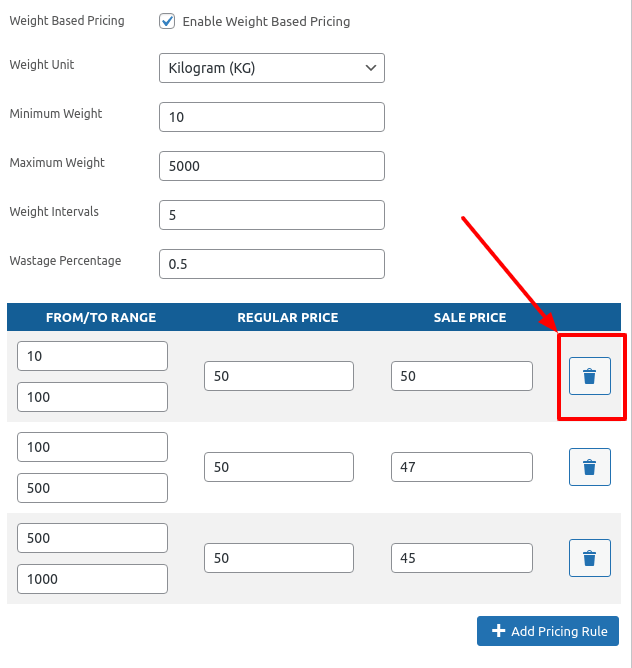 Step 3:
After deletion of the Pricing Rule you want to remove, you've to save the changes by clicking on the Update button on the top-right of that page.
Step 4:
Finally, go and visit your site's product page. The Pricing Rule which you remove will not be there anymore. You can check that by putting the respective values on it.