Weight Based Pricing for WooCommerce helps us to set the weight intervals for our WooCommerce products. Adding weight intervals for a product helps us in different ways. Let's assume that I had a grocery shop and I want to add a weight interval of 0.5 kgs for some items. The product weight varies by 0.5kgs each time you click.
Customers buy different products in different quantities. If I set the suitable weight interval for the respective products, then it'll ease the purchase. It'll indirectly improve your sales rate and the profit also gets high! Weight Based Pricing for WooCommerce plugin helps to add these weight intervals for WooCommerce products.
Download: Weight-Based Pricing for WooCommerce
After installing and activating this plugin, you should follow the below steps to set the price range for your WooCommerce product.
Step 1:
First, go to 'Products' and then to the edit page of your product. Go to the Product data section, where you can see the Weight Based Pricing option. Click the enable button. The below page will open.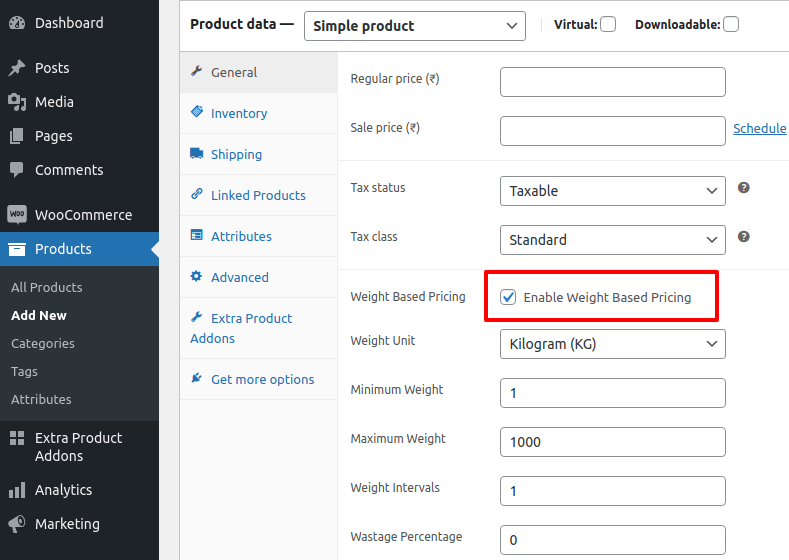 Step 2:
On that page, you can see the 'Weight Intervals' option. There you can edit the weight interval by directly entering the value or also use the drop-down menu to change them.
Step 3:
In this case, I put the value 5 in the Weight Interval box. After setting that, I clicked on the 'Update' button at the top-right of the page to save the changes.
Step 4:
Finally, go and visit the product page. The weight interval varies by 5kgs when the customer selects weight each time. They were only allowed to choose between these specified intervals.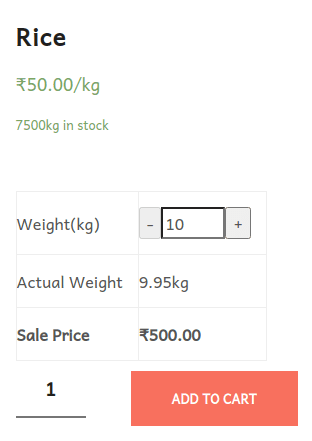 If you click the '+' button to add weight, you can see that the weight increases by the value of 5, which you set as the Weight Interval for that product.